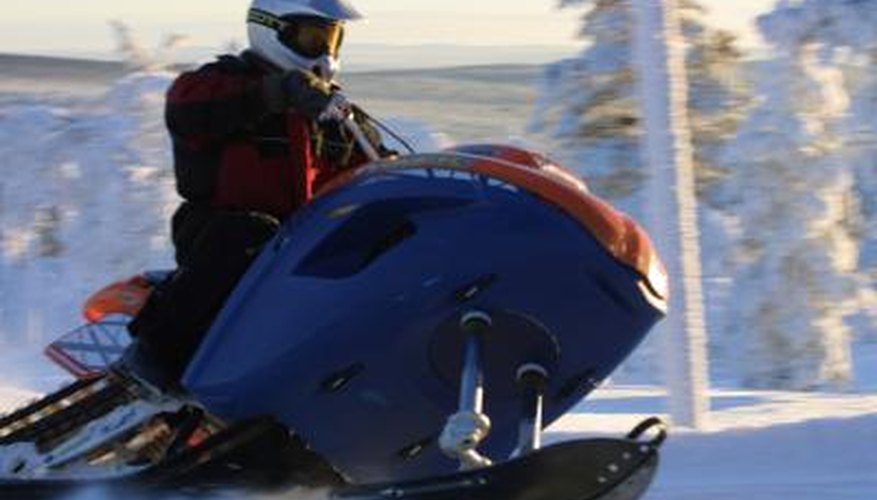 The 1996 Polaris Indy XCR 600 was one of 34 snowmobile models built that year by the Minnesota-based Polaris. The Indy XCR 600 was a trail-style mid-level performance snowmobile with a liquid-cooled engine.
Physical Features
The 1996 Polaris Indy XCR 600 measured 38.5 inches high and 46.5 inches wide. The snowmobile was 108 inches long. The track length was a little longer than the body of the snowmobile, measuring 121 inches. The longer track length provides an increased center of gravity and control while steering on the snow. The front skis were composed of steel. Its ski center measured 41 inches and a maximum front travel of 7.25 inches.
Engine and Drivetrain
The snowmobile was produced with a 579cc three-cylinder engine. This model had a 9.5 gallon fuel capacity and an oil temperature instrument light. The XCR 600 was assembled with a VM38SS Slide Mikuni carburetor and had a tuned pipe exhaust system.
Suspension and Brakes
The Polaris XCR 600 came equipped with an IFS front suspension and hydraulic disc braking system. The rear suspension featured the Polaris' XTRA-10 system.
Other Features
The 1996 Polaris Indy XCR 600 came equipped with a standard bumper, speedometer, tachometer, hand warmers and thumb warmers. Optional features included upgrades to a towing hitch, electrical start, mirrors, storage rack, adjustable bars and Polaris' EZThrottle system.
Writer Bio
Living in New York City, Nicholas Briano has been a professional journalist since 2002. He writes for "The Wave," a community weekly covering the borough of Queens. Briano holds a Bachelor of Arts in journalism from Brooklyn College.