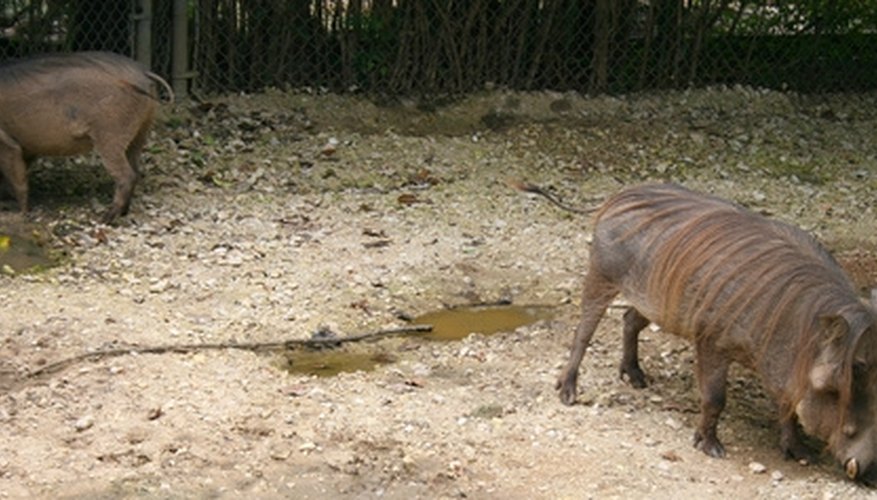 Wild hogs resemble domestic ones in size and shape, but unlike domesticated hogs the wild ones are covered with black hair and have large sharp tusks. Hunting them has become as much a necessity as a sport in parts of Ohio, particularly Vinton County, which has a large population of wild hogs.
Vinton County
Vinton County is located in the southeastern part of Ohio in the "foothills of the Appalachians." More than 70 percent of the county is wooded. As such, it offers many opportunities for hunting throughout the year. Vinton County has the highest concentration of wild hogs in the entire state.
Wild Hogs
The Ohio Division of Wildlife encourages hunters to hunt and harvest any feral swine in the wild to help limit the spread of these wild, destructive creatures. The wild hogs damage crops, eat bird eggs and damage wildlife habitat. They also carry disease that can infect both animals and people. Because of all these things, they may be hunted year-round.
Hunting with dogs
Hunters like to work with their hunting dogs, but hunting wild hogs is unlike other types of hunting. When a wild hog is being pursued, it will often seek cover in dense underbrush, forcing both dog and hunter to fight their way through thickets and brambles to reach the creature. This is not a task for the uninitiated. If you want to be successful with your dogs, you need an experienced dog handler, someone who can concentrate on the actions of the dogs while keeping the hunters informed about what's going on. The dog handler should be the one to determine when it's safe for the hunters to approach the hog to kill it.
Hunting Requirements
In order to hunt wild hogs in Vinton County, or in any part of Ohio, you must either possess a valid Ohio hunting license or be the owner of the property where you are hunting the animals. During both gun and muzzleloader deer seasons, hunters must also have a valid Ohio deer permit.
Warning
Although hunting wild hog can be an exciting experience and a rewarding one, it can also be quite dangerous. A wild hog will attack you if it believes it is being cornered. Females with a litter of babies will charge intruders who threaten them. These animals are big enough and fast enough to outrun and knock down a human, and their teeth are sharp enough to do mortal damage.
References
Writer Bio
Christine M. Irvin is the author of 11 children's books, nine by major publishing houses. She has been freelance writing for 15 years and has had numerous stories and articles published, for both children and adults, in publications like "Highlights for Children" and "Challenge" magazines.