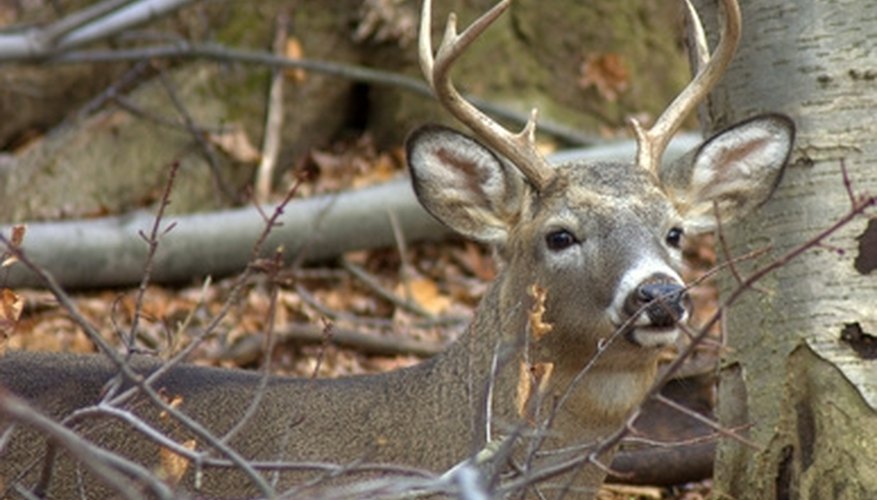 Ohio is considered a top hunting destination for white-tailed deer, thanks to the state's policies that make it easier to obtain a license, a long deer season and a conservative buck harvest policy. While there are numerous public hunting opportunities in state parks, private land can increase your opportunities to bag a trophy buck in the popular hunting areas of the state.
Written Permission
The Ohio Department of Natural Resources' Division of Wildlife allows members of the public to hunt and trap on private land, but written permission is required. The maximum penalty for hunting without written permission of the land owner is 60 days in jail and a $500 fine. A second offense has a maximum penalty of 90 days in jail and a $750 fine. The Division of Wildlife has a free permission to hunt form available on its website.
HuntOhioFarms
HuntOhioFarms is a program set up by the Ohio Farm Bureau Federation and the Ohio Division of Wildlife that connects hunters with farmers looking for a way to contain deer damage problems. Hunters can set up profiles that include information about themselves and their hunting preferences. It is up to farmers to contact hunters they wish to allow on their land.
Other Private Hunting
There are other opportunities to find private hunting in Ohio, but they will cost you money. Those include joining a hunting club, purchasing private hunting land, and hiring a deer hunting outfitter. For example, Sunfish Valley Whitetails offers 15,000 acres of land in south central Ohio, including fully guided archery hunts and fully guided gun hunts as well as wild turkey hunts. The company requires a $1,000 deposit. White Ridge Cabins in South Bloomingville, Ohio, offers 200 acres of private hunting with rates varying from $250 per hunter per day for turkey hunts to $300 per hunter per day for firearm deer hunts.
References
Writer Bio
Shane Stegmiller has been a reporter since 1998. He has been published in "The Marion Star" and has written for legislative news services such as Capitolwire. He graduated from The Ohio State University with a Bachelor of Arts in journalism.