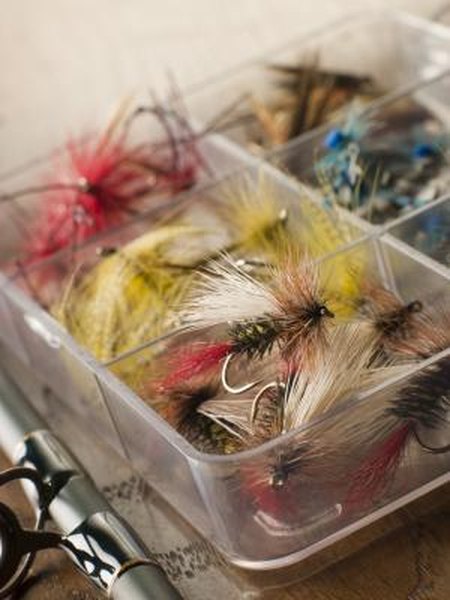 Devil's Backbone Park lies alongside Antietam Creek, a meandering stream best known for the Civil War battle that took place on its banks in 1862. Today, the roar of cannons and gunfire are long gone, replaced by the soft trickling of water and the chirp of local songbirds. Named for the prominent ridge that parallels the creek, Devil's Backbone Park provides a quiet fishing and picnicking spot where anglers can cast a line for the abundant bass and trout that call Antietam Creek home.
Spring Trout Fishing
The Maryland Department of Natural Resources stocks Antietam Creek with trout as early as February, and trout are the primary game fish in the stream during the spring season. Brown trout and rainbow trout in the 12-inch range are fairly common, and a variety of baits and lures can be effective, especially in March and April when the water tends to be cloudy and turbid. Insect species like mayflies and caddis hatch abundantly from April through June and provide a major food source for trout. Once hatches begin, trout can become very picky eaters, and sometimes the only way to catch them is fly-fishing with flies that imitate the current hatch.
Warm-Water Game Fish
As spring turns to summer, smallmouth bass fishing in Antietam Creek heats up. Big fish are rare, but the fertile stream produces lots of 10- to 12-inch bass, with the occasional 15-inch giant. Fly fishermen may catch the occasional smallmouth while casting flies for trout, but crayfish-imitating jigs and crankbaits are a safer bet, and live bait is almost always effective. Look for bass in deep pools and around rocks, logs and other structures that provide a break in the current. Antietam Creek also harbors some huge carp, especially in deep, still areas, and you can catch them on corn and dough baits.
Ample Access
Devil's Backbone Park has several hundred feet of open shoreline on both sides of Antietam Creek. A wooden footbridge near the parking area just off Route 68 provides access to both sides, and anglers can easily walk up and down the creek and cast to likely spots. A small dam in the park creates a deep, still area along the creek, which is often a productive spot for bass and carp. Trout are widely available from Devil's Backbone Park downstream to the mouth of Beaver Creek right after stocking. Antietam Creek is navigable by kayak or canoe, though a few quick turns, midstream rocks and mild rapids might make it challenging for beginners.
Know Before You Go
A current Maryland fishing license is required to fish at Devil's Backbone Park and all along the rest of Antietam Creek. You can purchase a license online through the Maryland DNR, or in person at most bait shops and sporting goods stores all over the state. A current guide to Maryland fishing regulations and seasons is available through the DNR website and where licenses are sold. Devil's Backbone Park is open to vehicles from the first Saturday in May until the last Sunday in October, but anglers may enter the park on foot at any time of year from 9 a.m. to sunset.
References
Writer Bio
When Richard Corrigan isn't writing about the outdoors, he's probably outside experiencing them firsthand. Since starting out as a writer in 2009, he has written for USA Today, the National Parks Foundation and LIVESTRONG.com, among many others, and enjoys combining his love of writing with his passion for hiking, biking, camping and fishing.