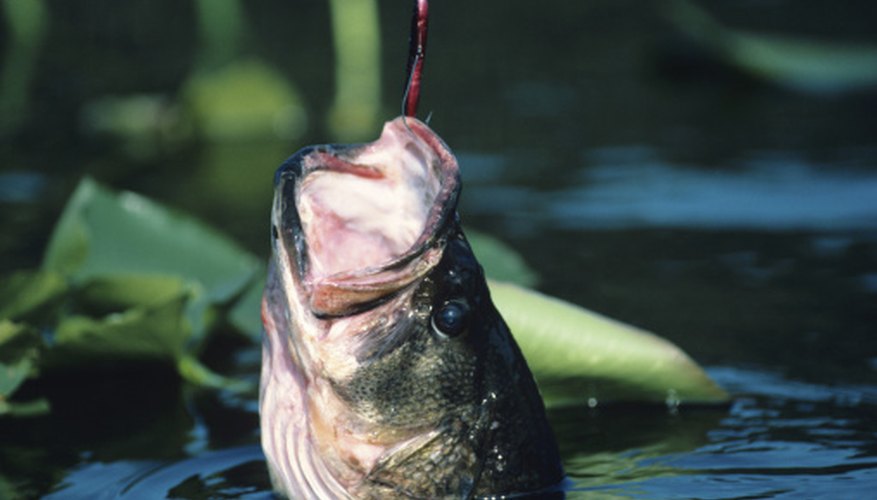 From rolling rivers to deep, clear reservoirs, the Columbus area offers a wide variety of fishing opportunities. Largemouth bass, rainbow trout and a host of other game fish inhabit the waters of central Ohio. State parks and Columbus Metro Parks provide access to some of the best fishing in the Buckeye State.
Big Bass Lakes
Several Columbus area lakes harbor abundant populations of largemouth and smallmouth bass, often alongside other game fish. Delaware Lake, about 40 minutes north of Columbus, is one of the best in the region, with giant largemouths along with excellent fishing for catfish and crappie. Delaware State Park encompasses most of the western shore, providing boat ramps, docks, shore fishing, campground accommodations and a full-service marina. Griggs Lake, a long, narrow reservoir along the Scioto River, is a hot spot for both largemouth and smallmouth bass. The reservoir is just west of Columbus, and several parks on the shore provide boat launch facilities and bank access. Other noteworthy fishing lakes in the Columbus area include Alum Creek Lake, Hoover Reservoir and Buckeye Lake.
Rolling on the River
If you prefer to fish flowing water, you'll find no shortage of rivers and creeks in and around Columbus. Trout are often the game fish of choice on the area's streams, but many also offer fishing for smallmouth bass, walleye and catfish. The Mad River, accessible at several points in the Springfield area, about an hour west of Columbus, is one of the best trout rivers, with ample populations of brown and rainbow trout. If you don't want to stray that far from the city, Big Darby Creek and its tributary, Little Darby Creek, both provide excellent fishing within a few miles of Columbus. Battelle Darby Creek Metro Park and Prairie Oaks Metro Park provide access.
Fishing Tips, Tricks and Tactics
The best bass fishing in the Columbus area usually takes place during late spring and early summer, though fishing in fall can also produce some big fish. For largemouth bass, cast soft plastic lures, topwaters and spinnerbaits around weed beds, boat docks, brush piles and submerged trees. Smallmouth bass prefer rocky reefs, drop-offs and points, and you can often catch them on jigs, diving crankbaits and soft plastics. Panfish species like perch, sunfish and bluegill inhabit just about every lake and pond in Columbus and across the state, and you can usually catch them with nothing more than a worm under a bobber.
Trout fishing is at its best during spring and fall. These fish head upstream to spawn during these seasons, and the Ohio Department of Natural Resources also stocks trout by the thousands in springtime. Live bait and a variety of lures can be effective, but some of the most successful anglers employ fly fishing, using fly patterns that imitate whichever insect species happens to be hatching at any given time. You can continue catching trout through summer in areas where streams are able to stay cool.
Know Before You Go
A current Ohio fishing license is required to fish all lakes, rivers and other bodies of water in the Columbus area. You can get a license through the Ohio Department of Natural Resources website and at most bait shops and sporting goods stores across the state. When you get your license, be sure to pick up a free copy of the DNR's annual fishing regulations guide. Available in print form and as a printable download, the guide includes all the fishing limits, seasons and other rules you'll need to know.
References
Resources
Writer Bio
When Richard Corrigan isn't writing about the outdoors, he's probably outside experiencing them firsthand. Since starting out as a writer in 2009, he has written for USA Today, the National Parks Foundation and LIVESTRONG.com, among many others, and enjoys combining his love of writing with his passion for hiking, biking, camping and fishing.