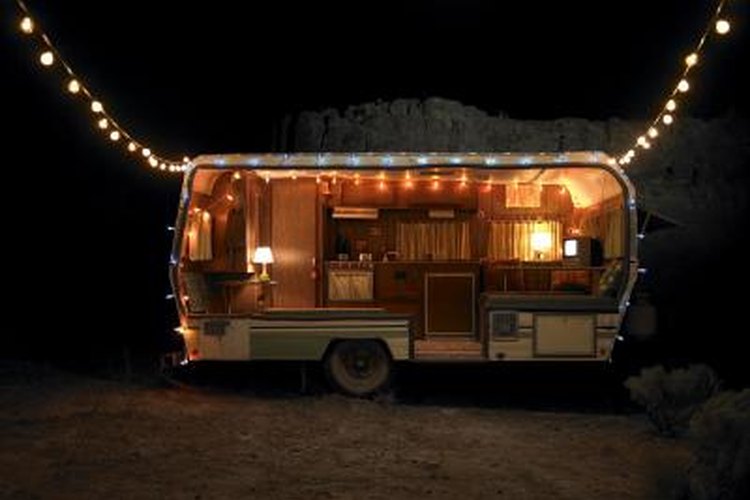 RVs and some campers contain beds, a bathroom, kitchen and small living room, and some pop-up campers only contain beds. Dress up the inside and outside of the camper with simple decorating ideas or a minor remodel, so the camper feels more attractive and inviting.
Remake the Inside of the Camper
Create a color theme inside the camper using colors that complement the paneling on the walls, counter tops and flooring. Put up matching curtains, rugs and kitchen towels. Put matching bed linens in the sleeping area.

Change the look of the interior of the camper by adding wallpaper. Purchase pre-pasted wallpaper, and follow the instructions included in the package. Remove wall lamps, pictures, outlet covers or hanging items from the wall before putting up the wallpaper.

Add a few 8- to 12-inch decorative lamps in the living room area of the camper for reading, playing cards or games. Put out a small magazine rack.
Dress up the Outside
Hang a string of colorful, outdoor decorative lights outside the camper. If the camper has an awning, attach the lights around its edge. Pick a theme for the outside of the camper, and buy lights that match, such as cactus or sea creature lights. Place a few solar lights in the ground next to the camper.

Lay a large piece of indoor-outdoor carpet on the ground in front of the door of the camper. Place a waterproof table and chairs or benches on the carpet.

Hang a decorative wooden plate above the camper's door with the family's name carved in or painted on the sign. Put stickers on one area on the camper showing where you go on your trips.
Items you will need
Curtains
Bed linen
Interior rugs
Wall paper
Small table lamps or freestanding lamps
Magazine rack
Outdoors camping lights
Solar lights that stick in the ground
Outdoor carpet
Table with chairs or benches
Wooden name plate
Decal stickers
Wind chimes
Photo Credits
Andy Reynolds/Lifesize/Getty Images