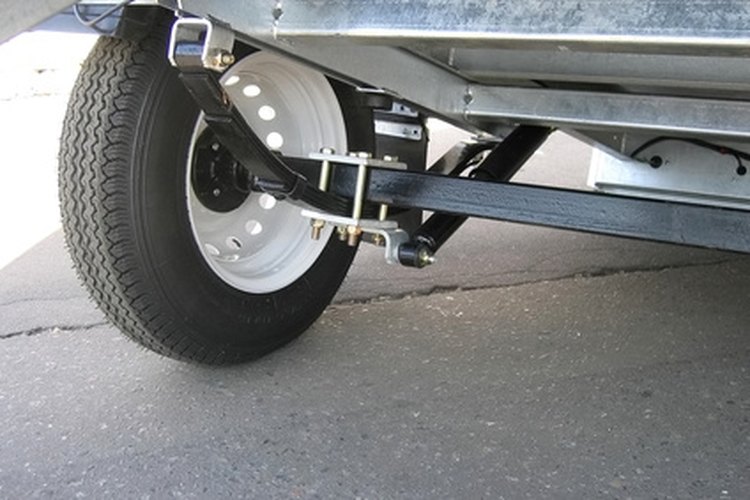 A build-it-yourself travel trailer is a potentially challenging -- and rewarding -- project for a camper. Keeping the scale small is most likely to result in success: Large trailers can mean design and construction headaches that are best left to professionals. A light and streamlined trailer will make towing easier. Start with an aluminum flat-bed utility trailer to keep it lightweight or with an enclosed utility trailer.
Starting With An Enclosed Trailer
Plan space requirements on graph paper or a computer draw program. If you use graph paper, make cutouts for beds, toilets, appliances and storage compartments. Move them around your floor plan to arrive at the best arrangement for you. Tailor the trailer size to the number of campers: A 5-by-8-foot space is adequate for one, but a 6-by-12 is better for two. Lay the bed out lengthwise; sideways will cramp the space. A V-nose trailer is streamlined and fuel-efficient. Find one with a stationary rear wall for mounting a small-room air conditioner and a curbside door.
Using 2-by-4-inch side rails, build a bed ladder frame. Top it off with 1/2-inch plywood and a foam or air mattress. Store clothes and light supplies in plastic bins under the bed.
Use a portable toilet and a 12-volt electric cooler and LED lights powered by a large, deep-cycle battery with a power converter to charge it. Build a shelf across the front for a small microwave oven and a two-eye stove. Carry a small, quiet generator for situations in which you can't plug in to an outlet; always use the generator outside the trailer. Use tie-down straps and floor cleats to keep equipment in place during transport.
Install a small, 30-ampere breaker box near the front and wire in a 30-amp, 25-foot recreational vehicle supply cord with a 30-amp, 3-prong plug. Carry a 30- to 15-amp converter plug. Install a small weatherproof door at the trailer's left side to retract the cord when traveling. Run a wire channel to the outlet locations in the front and rear of the trailer and install outlets for air conditioning in the rear and other appliances in the front.
Starting With A Ladder Frame
Plan out your space requirements and start with a bare-frame trailer with a 6-foot-wide bed and an axle and tire rating equal to or exceeding your planned gross vehicle weight. A teardrop shape is the most fuel-efficient.
Make the side walls with framing lumber and thin plywood. Bottom-clad 3/4-inch marine plywood with thin aluminum sheet wrapped around and 1 inch over the front, rear and sides for a floor. Lay it aluminum-side down on the ladder frame and U-bolt it to the frame members.
Use flexible ABS or equivalent plastic sheeting or sheet aluminum for the roof. Insulate with foam panels. Use plastic-sheathed AC wiring throughout and plan outlet positions for plastic outlet boxes. Make the inside walls out of thin plywood. Use recreational vehicle parts houses for door fittings, plumbing fixtures and plumbing.
Build an elevated bed platform in the rear, and a bench and storage hutch in the front. See Section 1, Steps 3 and 4, for toilet and appliance ideas.
Items you will need
Ladder-frame aluminum utility trailer or enclosed trailer
Aluminum welder
Wrenches
Screwdrivers
Drills and bits
Metal and wood saws
Sheet-metal and wood screws
Hand stapler
Scissors
Photo Credits
trailer's suspension image by Diana Mastepanova from Fotolia.com