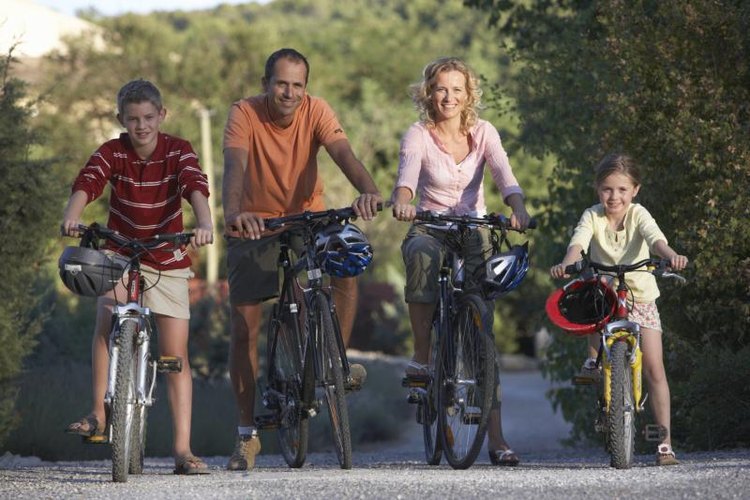 Cyclists in the United States are typically represented by road and mountain bikers -- but the two disciplines are not exclusive. Cyclocross, leisure, touring, recumbent and commuting cyclists are more visible than ever. If you're thinking about getting into cycling, don't limit yourself. There's plenty to choose from.
Road Riding
Road biking utilizes light, delicate bikes with skinny tires under high pressure. Destined for blacktop, roadies ride more miles, and faster, than most other cycling types. The streamlined, aggressive posture places road cycling among the most widespread of all the styles. Road bikes are unsuitable for dirt or gravel, but a dream to ride on pavement. If you crave performance and long distances, road biking delivers it. Most road bikes are ready to race when purchased. The more you spend, the faster the bike will be.
Mountain and Downhill
Mountain cycling is rough and tumble. The bikes are heavier than road bikes and can take a hit. Mountain biking is all about trails and gravel, roots, rocks and adventure. The lifestyle is laid-back and casual, interrupted by moments of sheer terror when descending steep hillsides. Mountain bikes have shocks on the front wheel. Downhill bikes are a version of the mountain bike with shocks on the front and back. Downhillers challenge the steepest hills. A downhill cyclist doesn't typically climb hills, preferring instead to transport the bike to the top with a ski lift or truck, or carry it up on his back.
Cyclocross and Mud
Cyclocross could be considered a combination of mountain and road biking. Also known as a cross-bike, the cyclocross bike is built similar to a heavy-duty road bike, but with wider tires to accommodate grass, dirt, water, gravel or sand. The typical cyclocross rider loves getting dirty, and is easily recognized by a muddy grin while carrying the bike over her shoulder.
Leisure and Comfort
Leisure and comfort cycling is relaxing, and not a bit intimidating. Leisure and comfort cyclists ride cruisers that are cushy, typically with only one gear, easy to handle, with an upright sitting position that allows for sightseeing. Wide tires and the heavy frame make them relatively slow, and they prefer bike paths, but cruisers are at home on the sidewalk, at the beach or on rural blacktop. Leisure cycling is not just about riding. Comfort, cruiser and leisure bikes are often decked out with artwork or colorful paint jobs.
Touring the Country
Touring bikes are a breed all their own. With geometry similar to that of a road bike, a touring bike is typically heavier, and equipped with racks and attachments to carry heavy loads, pull trailers and support extra weight. Touring is long-distance traveling by bike with all the gear you need to be self-sufficient. Touring bikes have lower gears and wider tires than road bikes. They're at home on blacktop or gravel. Dedicated cyclists ride them across the United States.
Reclining Recumbents
Recumbent cyclists recline when riding. The design of a recumbent places your feet about horizontal with your shoulders -- picture a reclining chair tilted all the way back. Recumbents are beneficial for people who find the torso-forward position of road bikes uncomfortable, or people with back problems. Recumbents are fast, and miles fade away when riding reclined. Certain bike clubs consist of nothing but recumbents.
Hi-Ho Hi-Ho
The commuter is someone who would rather cycle to work than waste gas on a smoke-belching vehicle. Commuters don't ride for culture or fashion; they ride for economy and practicality. The typical commuter bike is any bike that works. Getting from point A to point B is what's important to the commuter.
Photo Credits
Rayes/Photodisc/Getty Images