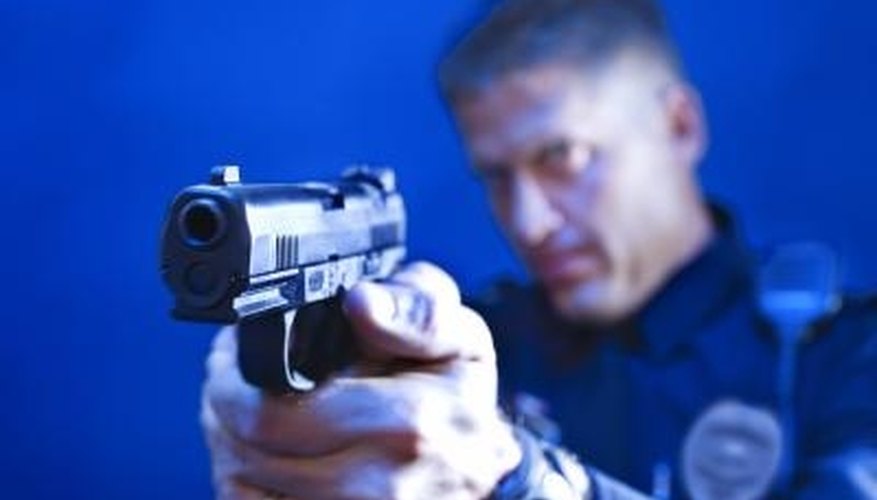 The SIG Sauer P229 is a common handgun choice among military and law enforcement personnel for its reliability and accuracy. The P229 Elite, an enhanced model with four variants, adds little in the way of personal defense or major performance boosts, but does include several features that will be appreciated by gun enthusiasts.
Primary Differences
The two differences which immediately jump out at the consumer, aside from appearances, are the length and default sights. The P229R measures in at 7.1 inches, while its Elite counterparts range from 7.4 to 7.6 inches. Additionally, while the Elite models all come standard with either SIGLITE or combat night sights, the P229R has simple contrast sights which can be upgraded. The final major difference is price. As of 2011, Elite models range from $200 to $400 more than the P229R.
Grip and Feel
Perhaps the most significant performance difference between the P229R and the Elite models is in the grip and feel of the guns. The P229R has a standard grip, which can feel a little unsteady in the hand. The Elite models all feature both a beavertail grip and front strap checkering. Additionally, the Elite has wood grips. These wood grips slightly expand the gun's width over the P229R (to 1.6 inches from 1.5 inches) and add about 8 ounces to the weight.
Miscellaneous
The P229R, P229 Elite Dark, and P229 Enhanced Elite are all available in 9 mm, .40 S&W, and .357 SIG variants, while the Elite and Elite Platinum both come in only 9 mm and .40 S&W. The Elite models all come with SIG's Short Reset Trigger feature, as well as front cocking serrations, neither of which can be found on or customized onto the P229R. Additionally, the P229 Elite Dark features a 4.4-inch threaded barrel. All P229 models have a 10-pound double-action trigger pull and a 4.4-pound single-action pull.
Compliance
Residents of California and gun owners who travel there regularly should be aware that only the P229R and Enhanced Elite comply with state gun regulations. The other models in the series are not barred for lack of safety features, such as a loaded chamber indicator, but simply fail to meet the maximum length requirements. Additionally, only the P229R meets Massachusetts compliance requirements.
References
Writer Bio
Brian Kemple began professional freelance writing in 2009. He has self-published an academic journal and started working for BookRags, developing and writing 30-day lesson plans for works of literature, history, philosophy and cultural studies. Kemple graduated summa cum laude with a Bachelor of Arts in English and philosophy from Southern Catholic College.