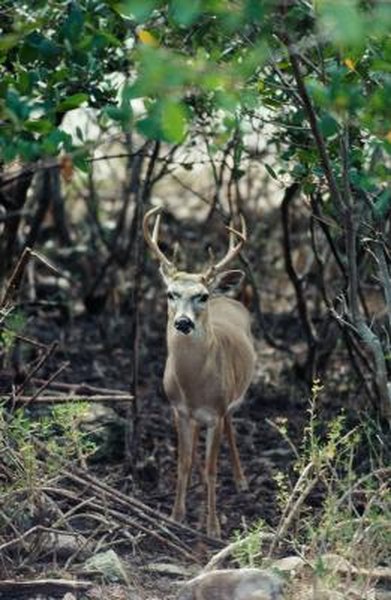 The Remington 770 is Remington's "next generation" model of its famous 710 line of hunting rifles. The 770 is a centerfire, bolt-action rifle available chambered for seven different calibers; it comes with factory-mounted telescopic sights. The gun is ready to shoot right out of the box, and needs to be sighted in before you take it out for a hunt.
Calibers and Magazine Specs
The Remington 770 comes chambered in seven different calibers. These are the .243 Winchester, 7mm-08 Remington, .270 Winchester, 30-06 Springfield, .308 Winchester, 7mm Remington Magnum and .300 Winchester Magnum. This wide range of calibers means the 770 functions in a variety of hunting situations. The rifle's detachable magazine loads below the action; it holds up to four standard rounds in each caliber, or three rounds in the case of magnum loads. The magazine's latch is an upgrade from the older 710 model.
Barrel Specs
Depending on the caliber, Remington's model 770 comes in a variety of barrel lengths. A special, youth-model 770 -- chambered for the .243 Winchester -- comes with a 20-inch barrel. In the regular 770, barrel length ranges from 22 inches in in models chambered for standard rounds to 24 inches for magnum-chambered models. According to Remington's brochure for the 770, the gun's "ordinance-grade steel barrel is cold-forged and button-rifled . . . with six-groove rifling."
Action
The Remington 770 comes with a solid-steel receiver, and utilizes three locking lugs to keep the bolt strongly secured to the barrel. Remington says this setup contributes to the rifle's accuracy The bolt itself is short, and set with a 60-degree throw. Remington says this allows for a smooth and easy camming action. That camming action means the bolt can be worked quickly in the field for fast follow-up shots.
Length, Weight and Other Specs
The Remington 770 weighs 8.5 lbs.. Some variation exists depending on barrel length. The youth model 770 -- chambered for .243 -- has a 20-inch barrel and weighs slightly less. Models chambered for magnum loads have a 24-inch barrel, rather than the standard 22 inches, and weigh in at 8.625 pounds. Overall length of the 770 varies similarly. The barrel length for the youth model measures 40.5 inches, standard models measure 42.5 inches and magnum models measure 44.5 inches. The 770 comes standard with a black-synthetic stock, a blued or stainless-steel barrel and a factory-mounted 3-9-by-40-mm scope. According to the Remington, all factory-mounted scopes are sighted in at 100 yards before sale. The stock can also be had in a camouflage.