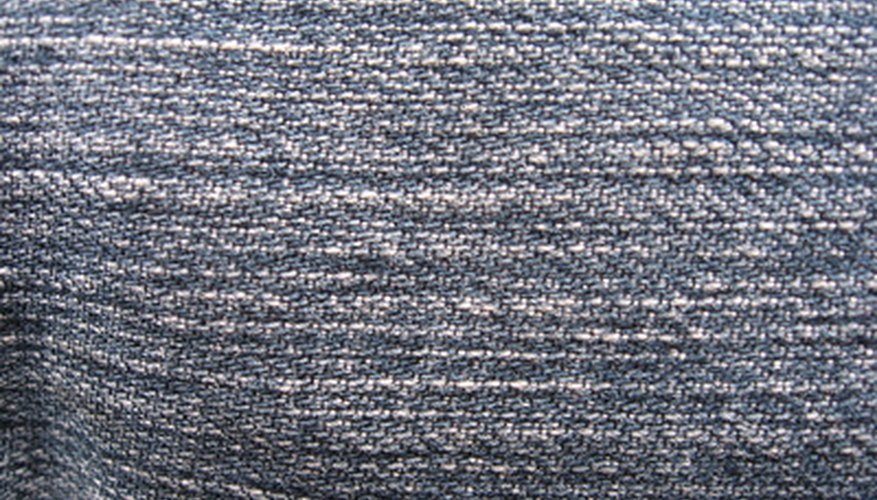 Denim and duck are both variants of canvas made with different types of weaves and types of yarns. Historically, both of the fabrics have been used to fashion sturdy, long-lasting work wear. The relative comfort of denim, however, when compared to duck fabric, eventually led to its rise in popularity as a garment fabric. These days, duck is more commonly used in other applications.
Characteristics
Duck is one of the most durable fabrics, lighter than traditional canvas, and so tightly woven as to be waterproof. It is washable, and usually resistant to the effects of wind and snag. Denim is long and hard-wearing, though generally considered not as durable as duck, resists tears, and creases easily. Denim, unlike duck, softens with wear, and does not retain dyes as well.
Uses
Lighter weight duck fabric is often used to make stiff, industrial-strength utility clothing such as jackets and aprons, but the more common heavy weight duck is used to fashion awnings, tents, sails and hats. Denim is used to manufacture jeans, jackets, uniforms, overalls, caps and a variety of other types of clothing. It is also sometimes used in home furnishings, in bedspreads or furniture coverings.
History
Duck fabric has its origins in 18th century textile markets, and was originally made from linen as an improved sail making material. Denim received its name from the town Nimes in France, where it was largely manufactured prior to the 1800s. Called "serge de Nimes", the fabric was used to make cheap clothing for laborers.
Types
There are several types of duck fabric, including light and heavy duck, as well as army duck and blended duck. Army duck is fashioned to military specifications, and woven extraordinarily tightly to create superior durability, and always water and mildew proofed. It is one of the top quality fabrics used for tents. Denim comes in a wide range of types, including stretch denim, which is woven with 2 percent Spandex, and poly denim, in which the cotton is blended with polyester to produce a lighter, easier to clean fabric.
Manufacture
Duck fabric is made from cotton, and has a tight weave which makes the product somewhat stiff, accomplished by using two yarns in the warp and one in the weft. Denim fabric has a twill weave that includes an un-dyed weft and dyed warp, usually in indigo.