•••
Martin Pettitt/Flickr.com, Jane Smith
Vans are less expensive than campers or conversion vans. However, the amenities they offer are not necessarily the ones you need for your favorite destinations. If you're not intimidated by the prospect of several days of work, any van can be turned into a camper van.
Items you will need
Fiberglass high top or a flat-bottom skiff that fits the top of the van

Reciprocating saw

1 inch by 2 inch foam rubber weather stripping

2-inch-long, self-tapping sheet metal screws

Power drill

1/8-inch diameter drill bit

Structural adhesive

Enough carpet for your walls, floor and bed surface

U-edge trim, available at RV supply stores

2x4 stock lumber

¼-inch thick plywood

Desired amenities (propane stove and refrigerator, portable toilet, etc)
Remove the dome light and wiring from the roof of your van. Use a reciprocating saw to cut a hole in the roof of your van that's two inches smaller in length and width than the fiberglass high top or flat-bottom skiff. According to Gypsy Wilburn, "Although not as aesthetically appealing as the high top, recycling an old flat-bottom fishing boat into a camper top is creative and will save you money."
Run weather stripping around the edges, where the topper will sit. Put the topper on the van and secure it by drilling 1/8-inch pilot holes every six inches with 2-inch-long, self-tapping machine screws. Cover any sharp edges of sheet metal with U-edge trim.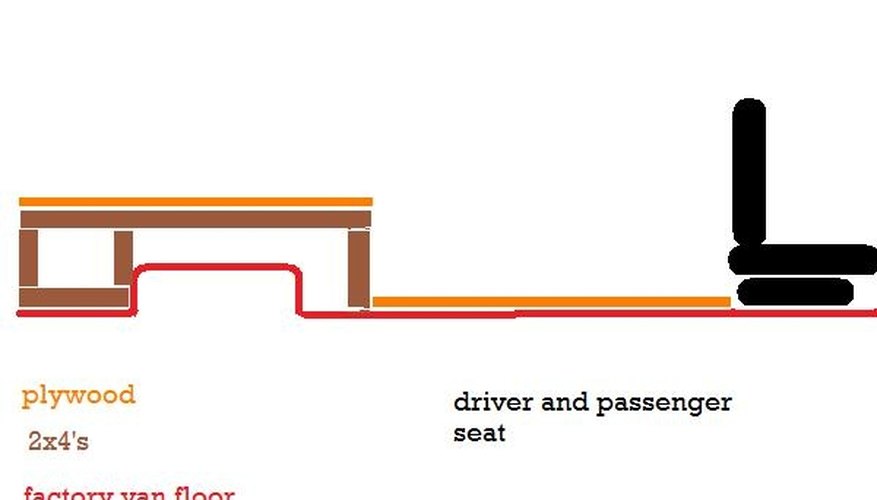 •••
Martin Pettitt/Flickr.com, Jane Smith
Lay new floor with 1/4-inch plywood. Measure from the console to the back door, side wall to side wall, and around the wheel wells. Transfer those measurements to your plywood sheet with a carpenter's pencil to create a van floor template. Cut along the lines to make a fitted floor from as few sheets of plywood as possible.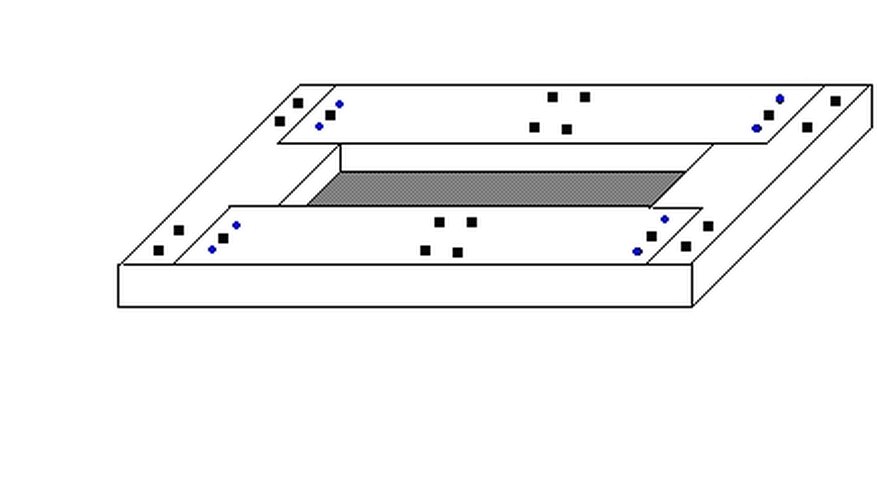 •••
Martin Pettitt/Flickr.com, Jane Smith
Build a bed frame from 2x4s. Cut four legs to your desired height, plus two long sides the width of your van and two short sides the desired width of your bed for the top frame. Use rabbet and dado construction as in the diagram to make the top frame. Secure the legs to your top frame and the entire bed frame to the plywood floor using 2¼-inch sheetrock screws.
Run wiring to install new overhead lighting. Get a licensed auto electrician to inspect your wiring before you try using it for the first time.
Use ½-inch-diameter sheetrock screws and structural adhesive on wood and self-tapping sheet metal screws on any metal supports to secure carpet to the floor, walls and bed surface.
Install desired amenities according to manufacturer's instructions. This is an arduous process that cannot be addressed correctly in this article, as RV amenities vary from one manufacturer to another.
Hire a professional RV propane system technician to install an underbody propane tank and run your propane lines. According to the National Propane Gas Association, "No matter how many times or how little the RV is used during the year, it should be taken to a qualified propane gas or RV dealer for an annual checkup to keep the system running properly."
If you do attempt to install your propane tank and lines yourself and anything goes wrong, you can be held criminally liable for any injury or loss of life. Your insurance company can refuse to pay damages or any claims, and you might void your auto warranty even if damage occurs to the drive train.
Gypsy Wilburn; Artisan and Industrial Blacksmith; Carrollton, Ohio
Martin Pettitt/Flickr.com, Jane Smith