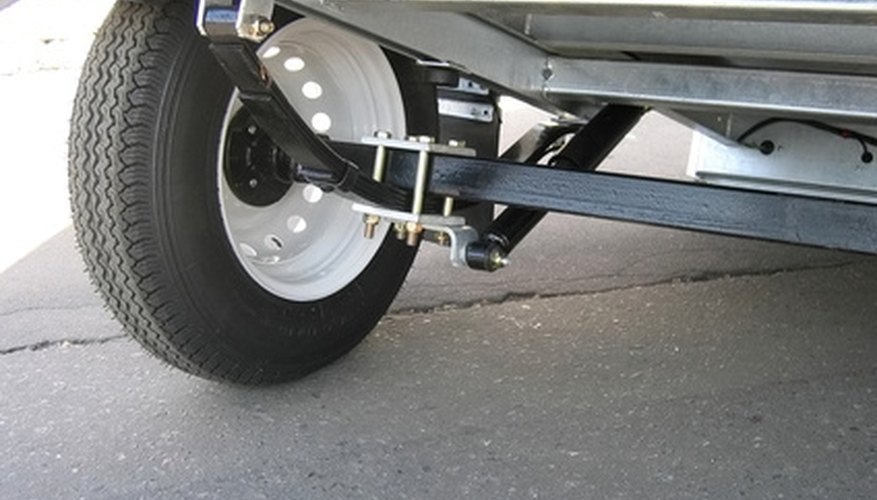 If you've got an enclosed cargo trailer and you'd like to make it comfortable to stay while traveling, converting the trailer is not a complicated project. The most important issue, however, to keep in mind when doing the conversion is weight. You can't treat the trailer as you would converting a garage into a guest room. The trailer's frame and enclosure already provides adequate strength. Your interior work needs to be functional but at the same time light to keep the weight as low as possible on the trailer's wheels and axles.
Plumbing and Electrical
What works best is to build a false floor on the trailer bed. Although this will make for a low ceiling, it can provide an adequate space for plumbing, electrical wiring and any cabling you might want for entertainment accessories. Don't think of it as a crawlspace under a house--just the height of a 2 x 4 turned on edge is plenty of space.
The same also it true for the walls and ceiling. Only instead of using 2 x 4 studs, use either 2 x 2 or even aluminum channel for framing. Aluminum is strong and will really impact the total weight savings.
Install plumbing for toilets, sinks and drains. Install under the trailer bed potable water and holding tanks. Plumbing can come from the potable water tank and to the waste tank. An RV hand pump or even splurge on an electric pump to move the water. Electrical wiring for lights, appliances and wall sockets can all be installed in the framing space.
Floors and Walls
Keep it light. The floor can be 1/4-inch plywood covered with linoleum or vinyl that's easier to clean than carpet. Ceilings and wall can be covered with thin veneer wood paneling, again very light but decorative. Do not forget, however, and in the space around the electrical and plumbing to add insulation before covering the walls and floors. This will keep the metal trailer from baking in the summer and freezing in winter.
Amenities
Once the trailer is framed out and the interior is covered, you can decide on doors, windows, counters, seating, storage space and whether or not you can install water closet with a chemical toilet. RV supply dealers have window and door kits to fasten directly to openings cut in the trailer wall and frame. There are also available modular cabinet and furniture units. Finally, you can decide just how much of a galley (kitchen) you can make room to install. Again, camping stoves, sinks and refrigerators are all available that will run either on installed portable generator power or off the tow vehicle's electrical supply.
References
Writer Bio
Wesley Tucker is a lifelong southerner whose politics are objective, whose sports are many and whose avocations range from aviation to anthropology to history and all forms of media. With a master's degree in mass communications from the University of South Carolina College of Journalism, Tucker has been a writer for more than 30 years, with work ranging from news reports to feature stories.