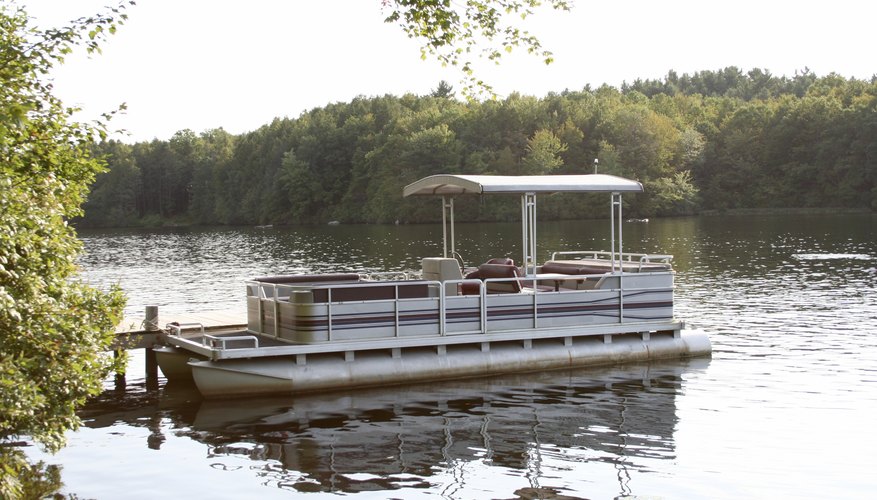 Sleeping on a boat can transform an ordinary camping trip into a maritime adventure. Dusk-cooled breezes tickle your skin, lapping waves rock you to sleep, and sun-streaked water is the only alarm clock needed. Once a past-time exclusive to owners of houseboats and cabin cruisers, pontoon captains are turning toward boat camping as a viable alternate to campsite vacations.
Easy Access
Pontoon boats, or party barges, can provide a less expensive alternative to luxury houseboats and cruisers. Because there's no hull to damage, pontoons can be pulled to shore for shore-side camping on sandy or muddy ground. They also offer the advantage of easy anchoring, as smaller boats are less likely to drift off anchor while you are sleeping. In addition, it's a more efficient and less tiring way of hauling your gear. Trucking all of your camping equipment from car to site can be a chore; but forming a fireman brigade from boat to shore with your traveling companions means you can set up camp more quickly.
Enclosures
Pontoon camping can be as pampered or as wild as you prefer. In areas without mosquitoes, you can go au naturale and sleep under the stars, but consider at least investing in a camping cot, as boat seats are pitifully narrow. Alternatively, you can pitch a small self-supporting tent on the and tie a few of the tent's eye holes to the boat's railing for extra safety. If you want to move up in comfort -- and expense -- consider purchasing a canopy. Canopies range from cabanas that cover only the helm to full boat enclosures.
Pick A Site
Perhaps the best part of boat camping is the freedom to pick any "camp site." Depending on the regulations at your lake, river, or bay, you can choose to camp on shore in a tent, at shore on the boat, at a rental dock or at anchor. Some lakes in the United States, such as Lake Ouachita outside of Hot Springs, Arkansas, offer free island camping to boaters on a first-come, first serve basis. This way of traveling allows you to explore venues that you might otherwise miss if scouting by land.
Rules and Regulations
Avoid fines, reprimands and other kinds of trouble by checking rules and regulations specific to your boating area ahead of time. The freedom of pontoon boating also means that you may be able to slip into the nearest town to access WiFi and check out the rules and regulations pertinent to your location. Some lakes require boat campers to have a Coast Guard approved holding tank or sanitary portable toilet. Other safety considerations -- like ensuring your boat's battery is robust enough to power anchor lights and start the boat the next morning -- can help ensure a trouble-free trip.
References
Writer Bio
Christine McKnelly is a writer and registered dietitian working as her state's coordinator for the Governor's Council on Fitness. Her writing has appeared in numerous publications including the "Encyclopedia of Arkansas History and Culture," the "Arkansas Democrat-Gazette" and "Monday Escapes" online travel magazine. In 2011, her narrative essay, "Should Have Gone To Annandale" placed among the top 10 finalists in Leap Local's international travel writing contest.