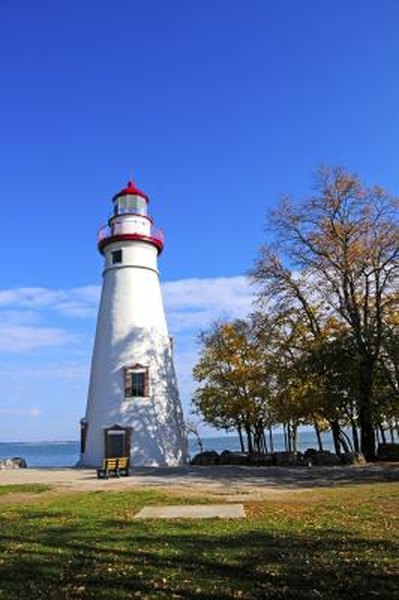 Ohio can surprise visitors with its variety of attractions. From Lake Erie island resorts, to dozens of state parks and world-class destinations like the Rock and Roll Hall of Fame, the Buckeye state has plenty to offer. Though the state has year-round appeal, RV campers should know that many campgrounds close for the winter. Luckily, Ohio's four largest metropolitan areas have a selection of year-round RV campgrounds to cater to visitors' needs.
Camping in Cincinnati
Hidden Valley RV, in Cincinnati off United States Route 42, offers year-round accommodations with a one-week minimum. This secure RV park has 20- to 50-amp electrical service, free utilities and rental storage units. East Fork State Park, 27 miles south in Bethel, Ohio, has a more rural environment. This 4,870-acre park presents a landscape of rolling meadows and imposing hills, and contains a 2,160-acre lake that allows boating and fishing. Though the campground store and outdoor showers close in the winter, all RV sites have electrical service and water. East Fork State Park limits campers to 14 consecutive nights on a monthly basis.
Campgrounds Near Cleveland
Huron River Valley Resort sits 51 miles west of Cleveland in Huron. Summer guests can enjoy 50 acres of lush wilderness along the banks of the Huron River, while those with boats can dock at an onsite marina. The campground remains open through the winter, though with limited utilities. Punderson State Park maintains all of its amenities for RV campers in the winter months. Located 38 miles east of Cleveland, this park features a 150-acre lake, and caters to winter sport aficionados with cross-country skiing. Throughout the year, Punderson State Park limits campers to 14 consecutive days.
Capital City Campgrounds
Alton RV Park, just 13 miles west of downtown Columbus, provides a comfortable haven for RV campers year-round. This quiet campground features 35 RV sites with full hook-ups. The campground provides free Wi-Fi to guests and offers nightly, weekly and monthly rates. Alum Creek State Park, 22 miles north of Columbus in Delaware, offers year-round RV camping with full utilities and heated showers. RV campers can enjoy this facility for 14 days of every month. Fishermen and boaters will appreciate this park's 3,387-acre lake, while all campers can explore over 4,600 acres of wilderness.
Toledo Area Campgrounds
Most northern Ohio campgrounds close from November through February, but RV campers able to make do with limited amenities do have a couple of options. As with all Ohio state parks, these limit campers to 14 nights each month. Maumee Bay State Park, on the shores of Lake Erie 13 miles east of Toledo, has 30 sites available year-round. Though the campground store and outdoor showers close for the winter, water and electricity service remains functional. East Harbor State Park, on a Lake Erie peninsula 49 miles east of Toledo, also maintains RV sites with electricity and water on a year-round basis. Wildlife enthusiasts will appreciate the abundance of waterfowl that call this park home, while the nearby Marblehead Lighthouse provides a picturesque photo op in all seasons.
References
Writer Bio
Douglas Matus is the travel writer for "West Fort Worth Lifestyle" magazine, and spent four years as the Director of Humanities for a college-prep school in Austin. Since 2005, he has published articles on education, travel and culture in such publications as "Nexus," "People's World" and "USA Today." Matus received an Education Pioneers fellowship in 2010 and an MFA from CalArts in 2011.