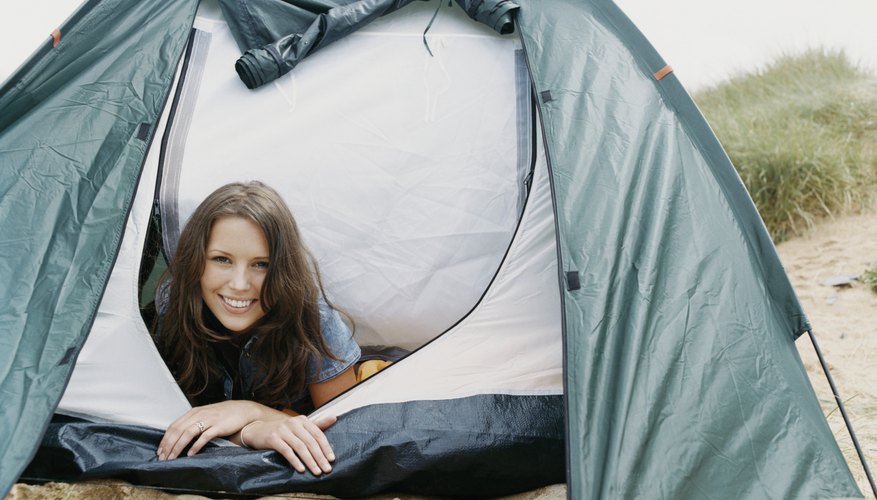 The tent is the quintessential piece of camping equipment, and few people consider camping without one. A good tent provides shelter from the elements and a bit of privacy in crowded campgrounds. Especially if you plan to camp in remote areas or in stormy weather, it is important to choose a quality tent from a reputable manufacturer.
Sierra Designs
A highly regarded brand, the editors of "Backpacker" chose a Sierra Designs tent for their Editors' Choice 2009 and 2013 awards. Sierra Designs also has a wide range of tent styles, although they are not as widely available as some other brands.
L.L.Bean
L.L.Bean carries a variety of lightweight, high-quality tents ranging from $159 to $559. "Backpackers" magazine selected L.L.Bean's Microlight FS 2 Tent as it's Editors' Choice for 2012. This is the lightest backpacking tent available from L.L.Bean and includes a freestanding frame.
Kelty
Kelty produces a variety of tents ranging from one person to eight person tents. Selected as "Backpacker" magazine's Editor's Choice in 2012, the Kelty Salida 2 Tent is a 4-pound, two person backpacking tent that kept the testers dry during wind, rain and snow.
Big Agnes
Although not as well known as some of the other brands, industry insiders consider Big Agnes to be a top brand. The editors of "Backpacker" magazine bestowed their Editors' Choice 2010 award on a Big Agnes backpacking tent after subjecting it to several months of testing. They offer several types of tents, from ultra-light backpacking tents to spacious car camping models. Prices for most models are average compared to similar tents of other brands. One drawback is that not all camping stores carry Big Agnes tents, and you may have some difficulty finding the model you need.
The North Face
The North Face is a very popular brand known for manufacturing high-quality tents that usually sell for equally high prices. Widely available, The North Face offers a full range of tent types. If you insist on having the best tent possible, The North Face should definitely be on your short list.
Coleman
At the other end of the price spectrum is the Coleman brand. While sometimes scoffed at by tent aficionados, Coleman tents often provide a good value for people who need a low-priced tent for casual use. While Coleman does make backpacking tents, they tend to cater more to the car camping market. You can find Coleman tents at almost any sporting goods store.
Eureka
Eureka is another commonly available tent brand. Generally priced somewhat higher than Coleman, Eureka is a good entry-level brand for most campers. They offer durable tents in almost every size and usage category.
REI
The popular gear cooperative REI produces its own brand of tents. These mid-priced models usually include high-priced technical features without the high price. While REI sells tents in nearly every category, they are only available at REI stores or through mail order.
References
Writer Bio
Southern California-based author Ryan Tubbs has been writing professionally since March 2010. His prior professional experience includes stints as a social worker, educator, and emergency medical technician. He earned a Bachelor of Arts degree in liberal studies from UC Riverside in 2004.