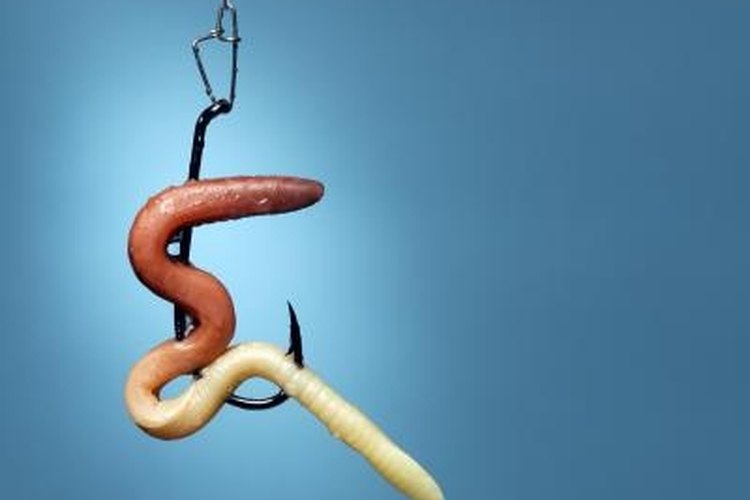 Bass fishing is a popular pastime for many anglers throughout the United States. Heading out for small or large-mouth bass is done in almost every state. Bass respond well to live bait such as worms, minnows and crayfish. Baiting the hook requires a bit of technique. Use some time-tested tips to get your bass-hook baited and ready to catch some fish.
Worms
Lift a worm from your bait bucket. Push the worm so it goes onto the hook lengthwise.

Push the worm body up all the way over the hook, essentially making a "worm sock" out of the bait.

Push the hook through the main body of the worm. Bring the worm body up past the bend in the hook. Wrap and push the end of the worm onto the hook and up to the first section on the hook. Grab the other end of the worm and push onto the hook; you now have three contact points of the worm through the hook.
Minnows and Crayfish
Net a minnow out of your bait bucket.

Insert the hook through the minnow's lip. The minnow must retain the ability to swim and move through the water.

Lift a crayfish out of the bait cooler. Push the hook through the upper back of the crayfish.

Roll the bend of the hook completely through the hard back of the crayfish so the barb is facing up and out.
Items you will need
Fishing rod and reel
Worms, minnows or crayfish
Photo Credits
Jeffrey Coolidge/Photodisc/Getty Images