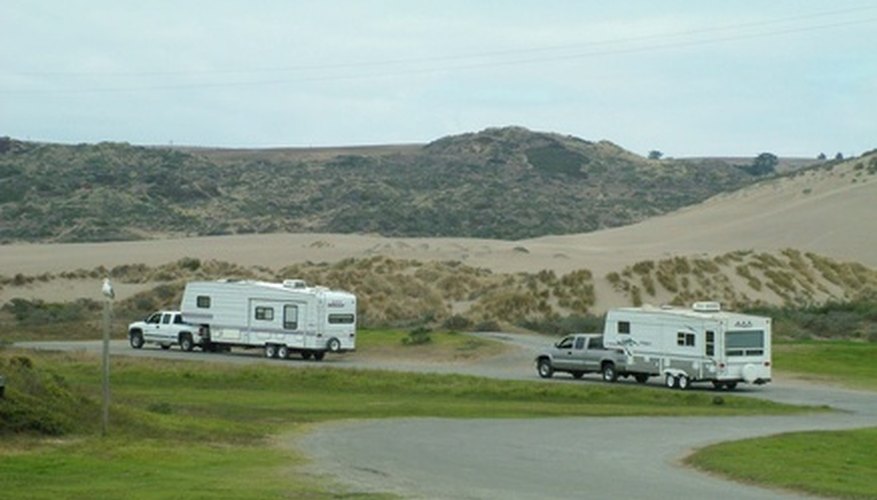 The type of fifth wheel trailer you can tow with a half ton pickup is based upon weight distribution. An empty fifth wheel trailer weighs much less than one filled with clothing, equipment and food. Your half ton pickup may need modification to tow any size trailer, including a fifth wheel. Half ton pickup trucks vary in towing capacity, 8,000 pounds to 15,000 pounds. Fifth wheel trailers vary in length, 21 to 40 feet, with and without slide outs, and weight ranges of 8,000 to 16,000 pounds without your belongings.
Chaparral Lite
The Chaparral Lite is manufactured by Coachmen RV, the lightest-weight fifth wheel trailer the company makes. Six floor plans are available, each with a different style slider. The weight of the Chaparral Lite without your belongings ranges from 6,536 to 7,931 pounds. The amount of weight it is capable of carrying also ranges depending on the model with the maximum weight at 3,269 pounds. Hitch weight ranges from 1,098 to 1,730 pounds. The length of the Chaparral Lite is 29 to 34 feet.
Keystone Xlite
Keystone manufactures a range of trailers, fifth wheels, light weight trailers, and toy haulers. The Keystone Xlite is available in Xlite and half ton models. There are three floor plans available for the half ton models with slider variations. The hitch weight is 1,150 to 1,240 pounds, cargo weight capacity is between 2,547 to 3,045 pounds and the shipping weight is 6,930 to 7,423 pounds. The length available is from 29 feet to 31 feet.
Rockwood Signature
The Rockwood Signature Ultra Lite fifth wheel is offered in eight floor plans and is manufactured by Forest River, Inc. The lengths available for the Rockwood Ultra Lite is 26 feet to 31 feet. The weights for hitch range from 997 to 1,595 pounds, cargo is 1,900 pounds for each floor model. The unloaded weight for the Rockwood Signature Ultra Lite is 5,880 to 7,220 pounds. The height for fifth wheels is 11 to 12 feet and the width is 96 inches for all models.
More Manufacturers
Other lightweight fifth wheel trailer manufactures include Cikira RV, LLC., Carriage RV, Crossroads RV, Extreme Rvs, Fleetwood, General Coach, Glendale Recreational Vehicles, Heartland RV, Jayco, Holiday Rambler, King of the Road, Komfort Corporation, KZ Recreational Vehicles, McKenzie RV, MVP RV, Newmar Corporation, NuWa, West Coast Leisure Homes, Open Range RV, Pacific Coach Works, Skyline RV, Starcraft, Sunline Coach, to list a few. In all there are over 30 fifth wheel manufactures.
Writer Bio
Connie Kirkpatrick began writing for publication 10 years ago on a variety of topics. Her recent articles have been on health, animal care, psychology, and personal observations. Connie's articles have been featured at several sites including but not limited to HubPages, eHow, Examiner and her own website blogs.