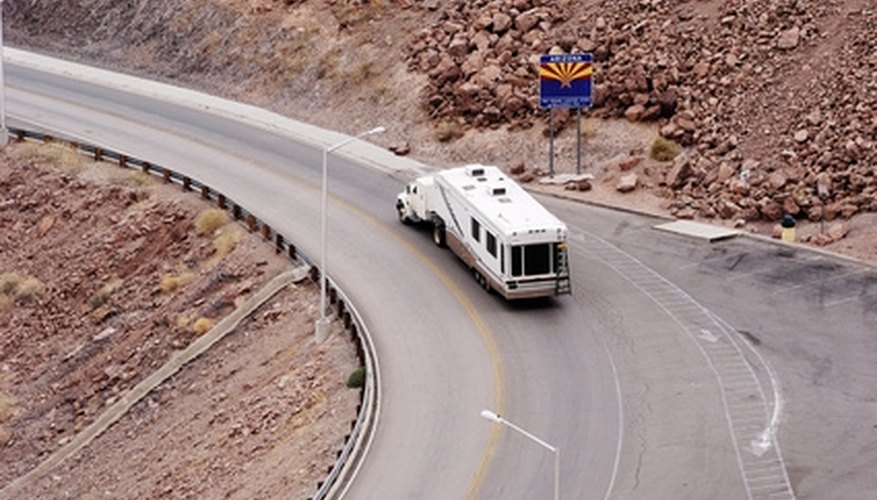 Shasta campers, or "canned ham," have a devout following. The 1972 campers are small and simple. They are also easy to tow behind most vehicles. Inside you will find all of the necessary utilities for camping, although the space is limited to fit only a couple of people comfortably. It is not uncommon to see a vintage Shasta being towed down the road. Many of the original 1972 models have been restored and are in use by campers around the country.
Weight and Exterior
The 1972 model Shasta trailer weighs in at 1000 pounds and is 18 feet long. The camper uses a wood frame on top of a trailer. Metal siding is attached to the metal frame to create the trailer shell. The walls are dry wall and the electrical and plumbing is installed around the dry wall. Ventilation and power connections are also installed before the interior cabinets and walls are constructed. Many of the trailers have the addition of a propane mount to the trailer tongue, but there is no exterior storage for a generator.
Interior
The interior is well-planned in the 1972 Shasta. There is a table with bench seats surrounding three sides. The table converts into a bed that can sleep several people. There is also a couch that converts into a bed. The camper has a bathroom with a toilet, shower and sink. The interior is lined with overhead cabinets and there is storage built under the bench seats and the couch. The kitchen also has storage under the sink and there are several drawers for silverware and kitchen accessories. There are windows on all sides of the camper and all of the windows have curtain bars and curtains. The original color is orange; many people change out the old curtains with a modern color combination.
Appliances
The 1972 camper has several modern conveniences. In addition to the toilet and shower, the camper has several lights, a stove with a range and an ice box. Many of the restored campers have a modern refrigerator installed in place of the ice box.
References
Writer Bio
Zach Lazzari is a freelance outdoor writer specializing in hunting, fly fishing and the general outdoors. He guided fly fishing trips for 10 years in Colorado, Alaska, Montana and Patagonia-Chile. Zach lives in Montana and splits time between the river and keyboard.