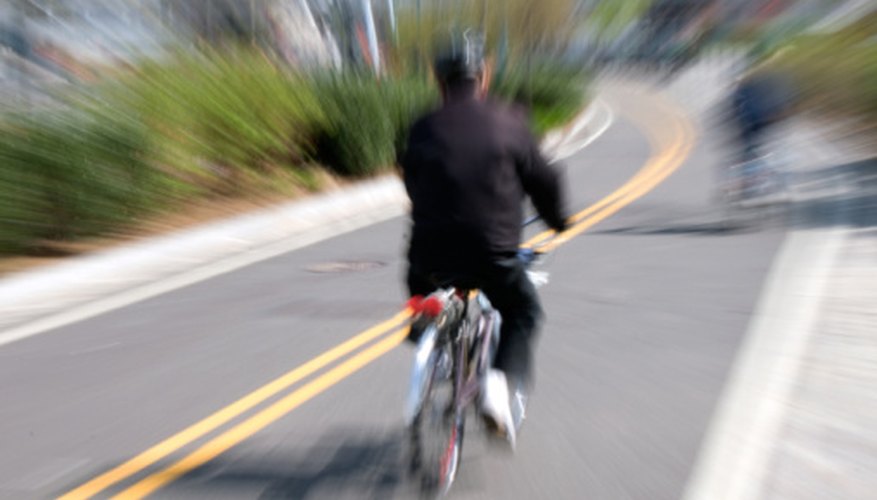 The cycling route from Philadelphia, Pennsylvania, to Ocean City, New Jersey is a momentous ride for even the experienced biker. You're going to be riding for about six hours, covering about 70 miles, and cycling in two states, including the entire width of New Jersey. But the feeling of accomplishment from completing this task will be accompanied by a refreshing East Coast dip in the sea. Many have taken this challenge, and several different routes will get you there.
Leaving Philadelphia
Plan your route by studying bicycling maps of Philadelphia and New Jersey. The Bicycle Coalition of Greater Philadelphia has city bike maps in hard-copy or digital formats. The independent New Jersey Bike Map website has detailed maps of bike-friendly roads in the state, with parks, food stops, hospitals and bike paths marked. To exit Philadelphia, find your way to the Benjamin Franklin Bridge Walkway, the most direct route for cyclists out of downtown and across the Delaware River. The walkway is open from 6 a.m. to 8 p.m. daily; contact the Delaware River Port Authority to confirm the walkway is open the day of your ride.
Philadelphia to Copper River Park
Several roads are suitable for bikers to Ocean City, and several cue sheets are available on the Internet, all with routes a little bit different. One possible journey is based on a route posted on Map My Ride, with a little help from Google Map's bicycle directions. The Benjamin Franklin Bridge Walkway leads directly into Camden, New Jersey. From the end of the walkway, zigzag your way south and east to Haddon Avenue. Turn left at Dr. Charles Brimm Boulevard, then turn right onto North Park Drive and follow it along Copper River Park for about 5 miles.
Copper River Park to Kings Grant
Cooper River Park ends at Caldwell Road. Turn right and weave your way down to Kresson Road. Follow Kresson Road for 5 miles; its name then becomes Braddock Mill Road. When the road then becomes Kettle Run, you'll be riding next to Kings Grant, a wetlands protected area near Marlton, N.J.
Kings Grant to Hammonton
Follow Kettle Run Road south, then take a right onto Hopewell Road, then a left onto Raymond Avenue. Weave your way down to East Atlantic Avenue and Old White Horse Pike. Stay on Old White Horse Pike for about 7 miles, until it turns slightly left and becomes U.S. Route 143. East of this road is Wharton State Forest, the largest in the state. Back at Hopewell Road, you enter the Pinelands National Reserve, a protected area of the state also known as the Pine Barrens. After about 4 miles, turn left at Country Road 561. Follow this into Hammonton.
Hammonton to Lake Lenepe Park
Follow Country Road 561 to North Chew Road, and continue for about 5 miles. Then turn left onto South 2nd Road/Blueberry Road and continue for about 2 1/2 miles. Turn right at Dacosta Road/Weymouth Road. After 8 miles, make a right onto Weymouth Elwood Road, which becomes Weymouth Avenue and then Weymouth Road again, also called County Road 559. Follow this route next to Lake Lenepe Park for about 8 miles.
Lake Lenepe Park to Ocean City
This is the homestretch. From this point you will follow County Road 559 to the shore, but it changes names along the way. At the end of Lake Lenepe Park you can stay on it by following Mill Street to Main Street, then turn right onto Mays Landing Road. It then becomes Somers Point Road. After about 3 miles turn left at the County Road 559 Alternate Route, also called Ocean Heights Avenue. Follow this for 14 miles to the Ocean Heights Bridge, then 2 more miles to Shore Road. Make a left at East Maryland Avenue to cross a bridge over Steelman Bay, then the road becomes Somers Point Longport Boulevard. This will take you to Ocean Drive. Now all you have to do is make a left, go over the Ocean Drive Bridge, and you'll find yourself in Ocean City.
Alternate Routes
The Bicycle Coalition of Greater Philadelphia shares its users' routes to the Jersey Shore on its website. The National Multiple Sclerosis Society hosts an annual ride from City to Shore, and posts its route online, too. Bikely hosts a ride from one of its users that goes from Media, Pennsylvania to Sea Isle City, New Jersey. The Philadelphia Bike Club's Myra VanInWegen posted a ride to Brigantine Wildlife Refuge, just north of Ocean City, and back.
References
Resources
Writer Bio
Nina Peacock is an American based in Germany. Since 2004, she has contributed to publications such as the "Alaska Star," "American Way," "ELLE," "New York" and "Topic." Peacock holds a Bachelor of Arts in sociology from the Catholic University of America.