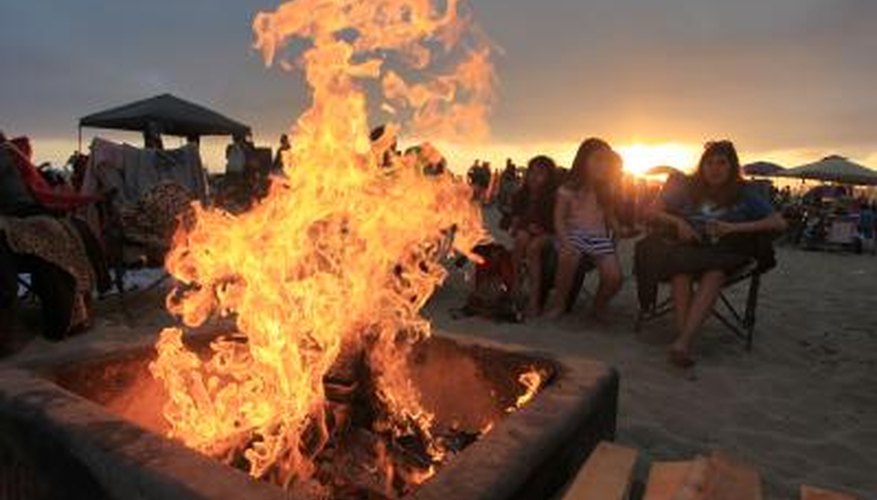 Knowing where it's legal to have a beach fire along the California coast is the first step to enjoying an evening of high spirits on the sands. Many state beaches in different sections of the state allow fires. It's important to know the rules and regulations about beach fires on state lands before venturing out onto the sands for the evening.
Northern California Beaches
In Mendocino County, Big River Beach just outside of the city of Mendocino allows beach bonfires. However, high winds are common along the Mendocino coast, so use caution. Farther south at the northern curve of Monterey Bay you will find both Seacliff State Beach in Aptos City and Manresa State Beach in Watsonville amenable to beach bonfires.
Central California Beaches
Zmudowski State Beach is in the center of Monterey Bay, west of the city of Los Lomas and northwest of Moss Landing. Salinas River State Beach is another, just south of Moss Landing. Both have cool, moist climates. El Capitan State Beach in Gaviota State Park is northwest of Santa Barbara. Ten miles east of Santa Barbara, Carpinteria State Beach is in the town of Carpinteria.
Southern California Beaches
In Los Angeles County, Point Mugu and Leo Carrillo state beaches along the coast northwest of Malibu are where the Santa Monica Mountains meet the Pacific Ocean. Between Seal Beach and Huntington Beach in Orange County, Bolsa Chica State Beach rests along the western fringe of the ecological reserve of the same name. Tiny Carlsbad State beach and Cardiff State Beach in Cardiff By the Sea are in San Diego County north of San Diego.
Fire Safety
Breezes can blow strong over California's beaches; at times, this breeze can be strong enough to carry burning embers quite a distance. Many beaches abut wilderness land that often boasts dry vegetation, especially long grasses that burn well. Avoid building bonfires on windy evenings, and always maintain control of your fire ring.
Fire Rings
Fire Rings are common on California beaches, even on state beaches. But just because you see a burned out fire ring doesn't doesn't automatically make it okay for you to start another fire. Always check with state park rangers about the fire regulations for whatever state beach you're visiting.
References
Writer Bio
Tom Wagner began writing for newspapers and magazines in the L.A. area in 2001. With articles appearing in "California Examiner," "World Reporter," the "Philippine Nurses Monitor" and "Famegate Global News," he currently writes for all three Philippine Media publications in Los Angeles, San Diego and Las Vegas. His articles focus on food, social issues, travel, sight-seeing, humor, general information, politics and medical matters.