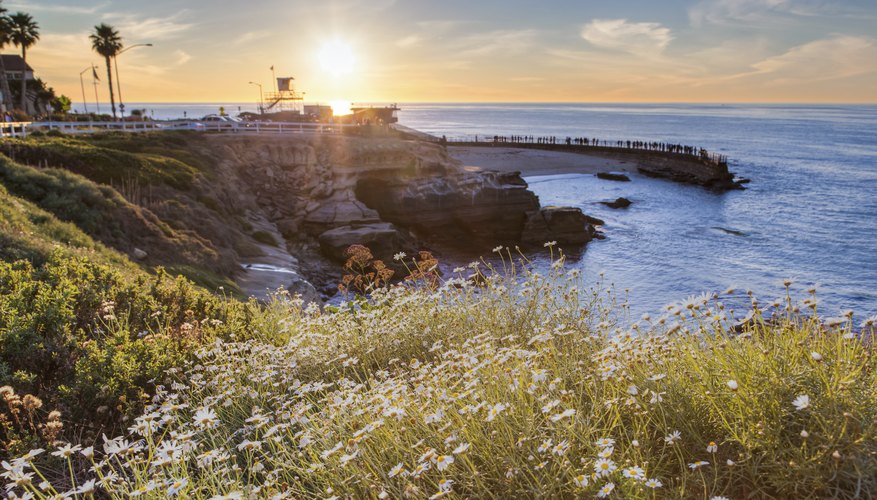 Thanks in part to French actress Bridgette Bardot baring it all on the Riviera coastline in the 1960s, clothing-optional beach going has caught the public eye and imagination. Naturist resorts have been increasing in popularity every year. Today, you do not have to head to the Mediterranean coastline to achieve a perfect no-tan-line tan, or the experience of reconnecting with nature in the nude. If you live in the San Diego area, opportunity awaits in your own backyard.
Black's Beach
Travel to the northernmost point La Jolla coastline, and discover for yourself the world renowned nudist haven, Black's Beach. Every year, countless naturists brave the challenging hike from the gliderport, for the opportunity to bask in relative seclusion on its crescent-shaped sandy cove, surrounded by jagged 300-foot cliffs. This beach has earned its place on Forbes list of Best Topless Beaches, though is also quite popular with surfers and para-gliders.
Finding Black's Beach
The area still referred to as Black´s Beach is actually Torrey Pines City Beach. From the North, take the Pacific Coast Highway to Torrey Pines State Beach. Pay for parking, then walk south one mile to reach the beach. From the South, take La Jolla Parkway to La Jolla Shores, on Calle Frescota. From the free parking lot, head north one mile, being aware of the cliffs towering above, and the tide conditions, before reaching the beach.
San Onofre State Beach
Head to San Onofre State Beach, and its 3,000-acres of scenic coastal-canyon beauty. Though the park itself is quite popular with campers, hikers and surfers, head to the beach to sun bathe, play Frisbee, or swim in the closest clothing optional beach to Los Angeles and Orange County. Vending machines, and restroom facilities are available at the trailhead.
Getting to San Onofre Beach
Take the San Clemente, or Basilone Road exit from Interstate 5 to reach San Onofre State Park. The entrance is half a mile south of the nuclear plant, and head three miles to signs for Beach Trail number 6. Arrive early, preferably before 9 a.m. on hot days, and pay for parking,or head south to the Las Pulgas Road exit to access a free parking lot. From here it is a three-mile walk on a paved bike trail, but this route bypasses an immigration check point.
Tips for Your Trip
Be aware of your surroundings, and especially careful when taking pictures to not offend any fellow sunbathers. Because both beaches are located within state parks, alcohol, dogs, camping and fires are prohibited on the beach. Be sure to keep in mind that nudity is a still a citeable offense. Neither Black nor San Onofre has clearly marked boundaries, and straying from the clothing optional area could result in a ticket.
Also Check Out
If you are looking for a place to stay in the San Diego area, DeAnza Springs is the largest clothing optional resort in the United States. Built on 500 acres among the high desert beauty of San Diego county, this resort offers 311 RV sites, and areas for tent campers. Rental units and motels room are available, and reservations can be made by contacting the resort directly.
References
Writer Bio
Jessica Brower is pursuing a B.A. in English and literature with The Evergreen State College. Writing since 1999, she has been published in various community publications. Brower's essays were published in "Beyond Parallax," the literary journal of Centralia College, which she also co-edited.