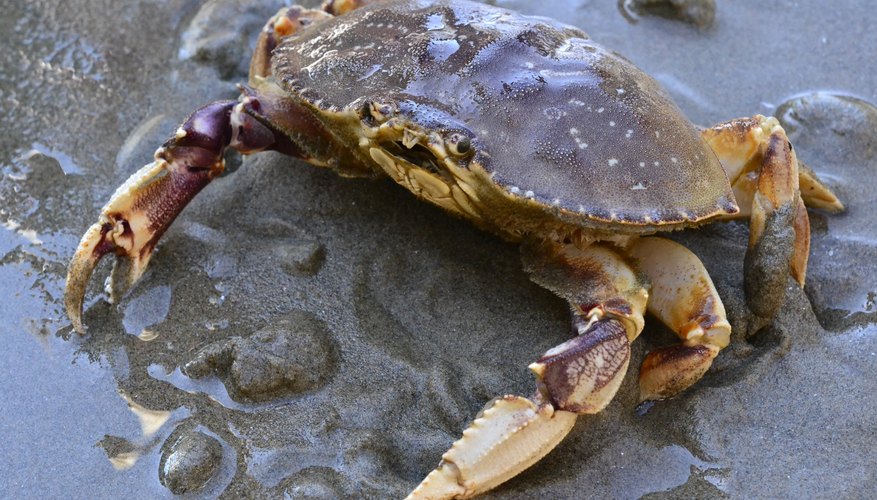 Bodega Bay in Sonoma County, California, is used for recreation, commercial and sport fishing, including crab fishing. The bay is 5 miles long and is about 40 miles northwest of San Francisco and has a Marine Laboratory. Alfred Hitchcock's "The Birds" was filmed there, and today many people flock there to go crabbing, especially during Dungeness crab season. You can crab from the shores around rocks, from jetties or from boats.
Crab Species Found in Bodega Bay
The most common crabs in the area are Dungeness crabs, slender crabs, rock crabs, red crabs and yellow crabs. Dungeness are the most desirable species for eating as they yield more meat per crab than most other species, and the meat is firm with a delicate, slightly sweet flavor. Slender crabs tend to be small and do not provide much meat. Rock, red and yellow crabs have most of the meat in the legs and claws but are quite tasty.
Crab Season and Legal Requirements
The Dungeness crab season usually runs from early November to the end of June, and other crab species can be fished year-round. There is a limit of 10 Dungeness crabs a day and 35 crabs of other species, and size limits apply. No license is required for crabbing from a public pier or for people under 16; others must buy a license for one, two or 10 days. The minimum size to keep a Dungeness crab is 5 3/4 inches, measured by the shortest distance through the body from edge of shell to edge of shell directly in front of and excluding the points (lateral spines), according to the California Department of Fish and Wildlife website. Other Ocean Sport and Fishing Regulations are available at the CDFW website.
Catching Crabs
You can fish for crabs in the bay using nets and snares. Crab snares work well for larger crabs, but in rocky areas they can get caught on rocks and be frustrating to use. Crab traps can be used from shore, a pier or a boat and can be baited with dead fish. You will need a container to put your catch in and something to measure them with. Heavy-duty gloves are also recommended for handling crabs.
Where To Crab
The rock jetty near Doran Park at the harbor mouth is one of the best spots for crabbing. Otherwise, pick any rocky spot in the bay or fish from a boat. The best time to crab is around high or low tide as the crabs are foraging then and not being pushed around by tidal flow. You will need clear water conditions if you are using a snare. The USA Fishing website has regular fishing updates for Bodega Bay, including wind and wave conditions.