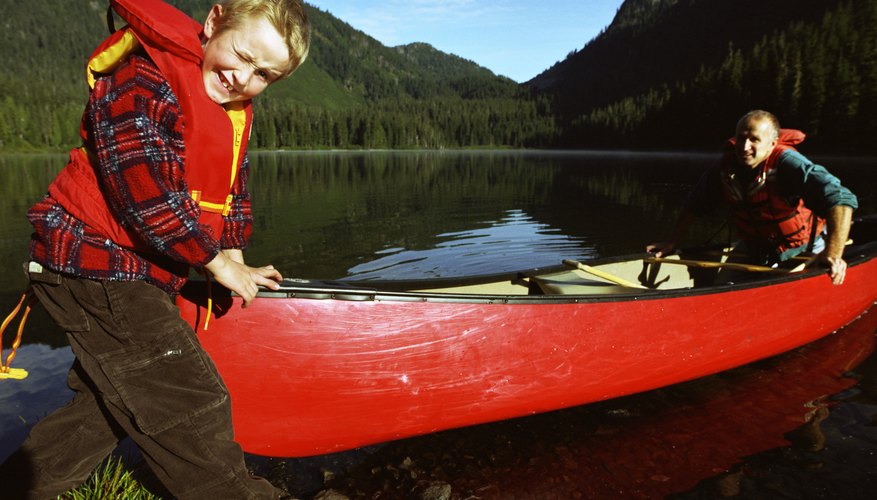 California's rivers are famous among whitewater enthusiasts for heart-pounding rapids suitable for the most experienced paddlers. However, you don't have to wait to make expert status in a whitewater canoe to tackle the famous rivers. Look for stretches rated Class 1 on the International Scale of River Difficulty, where you can stick to smooth, straightforward waters with plenty of room to learn to navigate your canoe.
Most Famous Paddling River
Known as California's favorite whitewater river, the American River offers heart-pounding hydraulics ranging from Class 3 to Class 5. The stretch flowing through Sacramento gives the novice canoeist an opportunity to get a paddle wet on the famous river. The Class 1 section parallels the American River Parkway, where you can reach the river from multiple parking areas in the city. Launch at the Sailor Bar ramp for a 4-mile float that concludes at the frothy but straightforward San Juan Rapids, rated Class 2.
A Beautiful View
One of 38 wild and scenic rivers in the state, Merced River originates in Yosemite National Park and winds through glacier-hewn canyons while traveling to the San Joaquin Valley. Paddle six miles of it with views of Half Dome in the Yosemite Valley; the stretch runs between Stoneman Bridge and Sentinal Beach, with areas of swift water and occassional logs and other obstacles to paddle around. Further downstream, bring your camera to photograph herons, egrets and other waterbirds as the river carves through a limestone canyon below Merced Falls.
Take on a Challenge
Take your paddling skills to the next level on the San Joaquin River. Although Class 1 at most flows, islands and gravel bars in the middle provide opportunity to start reading the river and selecting the best route around an obstacle. If you miss and hit a snag, you'll take a swim with no major consequences, making this an ideal place for beginners to develop canoeing skills. Sixty miles of the river north of Fresno is dotted with access points, allowing you to develop a trip within your desired time frame.
Take Your Time
Take a multi-day journey down the Colorado River from Blythe to Yuma. The flat water zips along at 5 mph on a 76-mile journey to Imperial Dam. Multiple access points let you design a trip to suit your time frame. The river flows through wildlife preserves with abundant wildlife and riparian vegetation that sharply contrast nearby arid desert and agricultural fields. Primitive campsites and a few private campgrounds provide overnight accommodations.
References
Writer Bio
Indulging her passion for wide open spaces and outdoor fitness through the written word on a full-time basis since 2010, author Jodi Thornton-O'Connell takes the mystery out of outdoor skills and guides readers to discover fun ways to physically connect to natural surroundings.