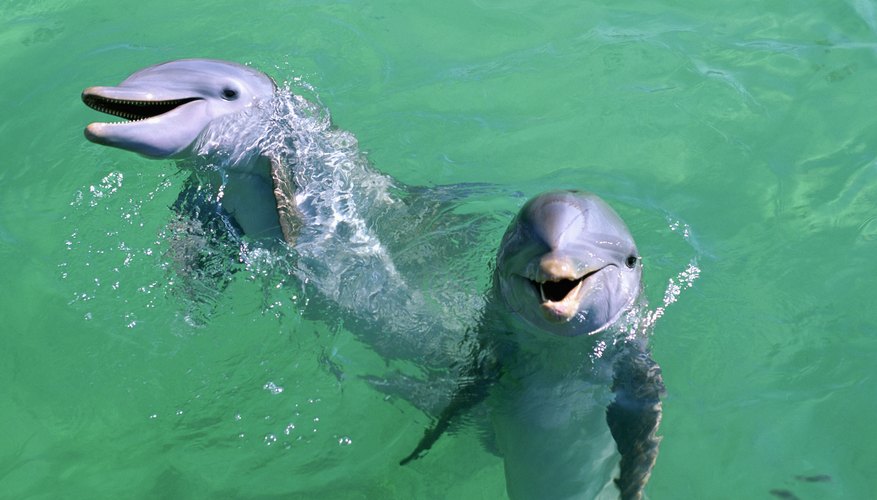 Many dolphins live in pods near coastal areas including the Texas gulf coast. Coastal dolphins typically weigh between 300 to 400 pounds and are approximately 8 feet long. Deep-water dolphins can be twice as big. Dolphins are social and humans can often interact with them, although contact should only be attempted with trained supervision. In Texas, you are not allowed to actually swim with dolphins, however, there are tours and programs that allow observation and you can touch the dolphins.
Geography
Although dolphins can be seen along the Texas gulf coast in places such as Galveston, one of the best areas to interact with dolphins is in the Corpus Christi, South Padre Island areas. Corpus Christi is along the southern coast line of Texas, south of San Antonio. This region has several pods that live near the coast year round.
Considerations
Texas law does not allow you to play with dolphins in the wild or to feed them. When people feed dolphins, the animals begin to rely on humans for food and they won't hunt for their own food. This can cause problems when the animals do not have a continual food source from people. Interacting with dolphins should only be considered with people well-trained on their behavior. Dolphins can assert aggression which can be dangerous.
Dolphin Interaction Opportunities
The Dolphin Connection Tour is a well-established business on the north side of Corpus Christi Bay. The company was featured on the Travel Channel's Road Trip. The company offers small boat tours of up to six people to encounter dolphins in the wild. The Dolphin Connection also has kayaks for rent in the Ingleside Cove. The cove is an area that is protected by a barrier island and you can expect to encounter dolphins on your journey.
At SeaWorld in San Antonio, there is a Dolphin Encounter program where you can learn how dolphins are trained, their history and what is being done for conservation. You also have the opportunity to feed and touch the animals. Another tour from The Original Dolphin Watch takes place off of South Padre Island. The company states that you will encounter spinner and bottlenose dolphins.
Reservations
It is important to plan ahead and make reservations for any dolphin tour. Seating is limited on some of the tours and the number of trips a day is limited.
Pricing
Companies like The Original Dolphin Watch offer tours for $13 dollars a person, as of September 2010. The Dolphin Connection costs $20 for children and $25 for adults for a one hour trip. SeaWorld's Dolphin Encounter costs start at $40 for approximately 20 minutes of interaction. You must also pay for the general park admission price. Children must be at least four years old to participate in the program. The fee for this encounter is given to the SeaWorld & Busch Gardens Conservation Fund.
References
Writer Bio
Debbie McRill went from managing a Texas Department of Criminal Justice office to working for Compaq and Hewlett-Packard as a technical writer and project manager in 1997. Debbie has also owned her own businesses and understands both corporate and small business challenges. Her background includes Six Sigma training, and an Information Development career with journalism and creative writing as her passion.