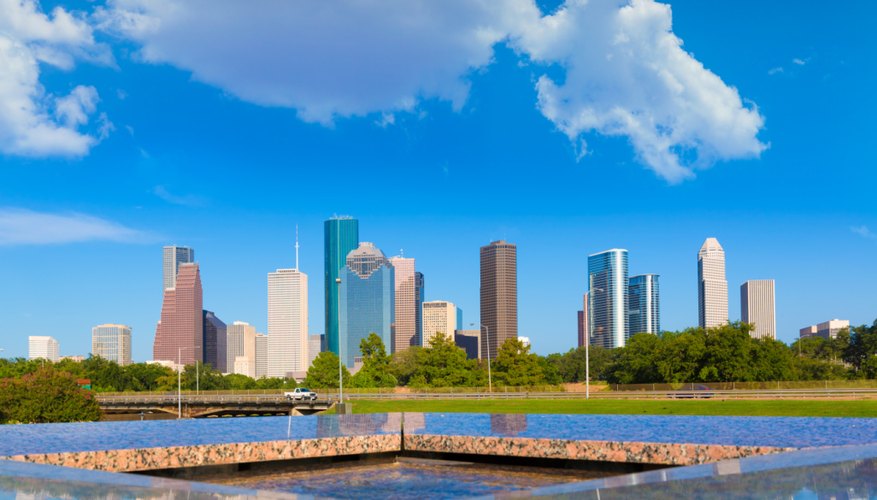 Located near the Gulf Coast, Houston, Texas, has a population of over 2 million people, making it the largest city in the state. Houston is the home of NASA and a developing aerospace industry. Many military bases are based in Texas, and this has also brought business (and lots of visitors) to the region.
History
Houston was settled in 1836 and expanded quickly owing to the nearby port, the railroad industry and the discovery of oil in 1901. It also had a thriving cotton trade. The construction of the Houston Ship Channel in 1902 improved the city's infrastructure, and consequently, its population doubled in 10 years. However, during the 1980s, a recession and decline in the aerospace industry slowed growth. Today, the city welcomes millions of visitors a year.
Hurricane and Flood Risks
Houston is a humid and semitropical area near the Gulf of Mexico and vulnerable to hurricane activity. Hurricanes are created between cold and warm fronts colliding in the Gulf of Mexico, which are then swept inland to Houston. In 2005 2.5 million people evacuated the city owing to the threat of Hurricane Rita. Houston is also prone to flooding and has a low elevation of 50 feet above sea level. The city is within close proximity to the San Jacinto River and Buffalo Bayou, and many areas of the city are in direct flood plains.
Buffalo Bayou
Houston sits alongside Buffalo Bayou, which is a large river that runs through the city. Its focal point is the Promenade, which has a lively calendar of events. Each May it also has an annual Dragon Boat Festival. If you're feeling active, you can rent kayaks and canoes for self-guided tours of the river all year round. Alternatively you can enjoy a leisurely Pontoon Boat tour with a private company. If you are environmentally minded you can even "adopt-a-spot" of the Buffalo Bayou by contributing towards conservation projects.
Lake Houston Wilderness Park
Lake Houston Wilderness Park is half an hour from downtown Houston. The park is nearly 5,000 acres of land that offers a plethora of recreational activities. Overnight camping is available with basic grills and picnic spots provided. You can explore the area on bike, boat or foot. The park has 8 miles of hiking trails and 12 miles of cycling tracks.
Places to Visit
Houston offers a range of sporting, cultural, historical and other attractions. The Johnson Space Center is a must with a range of exhibits, space experiences and educational talks. You can take a tram tour of the center or take part in a space voyage simulation. Houston is also home to The National Museum of Funeral History which was opened in 1922. You can visit the fantasy casket and learn about the ancient secrets of embalming. Alternatively, eat at Pat Greer's Vegan Kitchen, a vegan restaurant in inner Houston (which offers private and community cooking classes).
References
Resources
Writer Bio
Based in Bristol, Philippa Jones has been a music journalist and script writer since 2007, working across a range of radio programs in the U.K. and Australia. Her articles have appeared in "Impact Magazine," "The Mic" and in local newspapers. She holds a Bachelor of Arts in politics from the University of Nottingham.