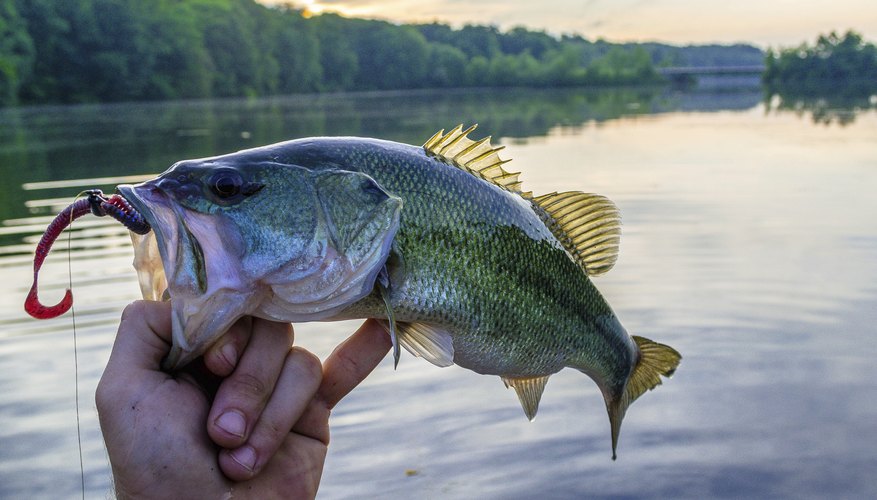 Bass fishing is tantamount to an obsession for many of Ohio's professional and amateur anglers. The best way to earn a good day's catch is to know where to cast your line. The Ohio Department of Natural Resources Division of Wildlife provides detailed lists of the best lakes to find each type of bass. Listed is a sample of lakes with the highest numbers of bass catches.
Great Lake, Great Fishing
Hands down, Lake Erie wins the award for the best bass fishing in the state. It is the top lake for smallmouth bass, largemouth bass, rock bass and white bass. Smallmouth bass can be found along the southern edges of the lake all the way to New York, and specimens are known to be large -- up to 7 pounds. Largemouth bass are found in shallow water and are particularly abundant in Erie's western basin. Lake Erie closes the black bass (smallmouth and largemouth) season from May 1 through June 26, after which the limit is five specimens of 12 inches or more. Rock bass are very common in Lake Erie, and though usually smaller than the black bass types, they are deeper bodied. This fish can be found around the rocky areas surrounding the islands and in the western basin, and it does not have the off-season or specimen limits of the small and largemouth bass. White bass is best found in Lake Erie's tributaries during their spring spawn from April through May.
Angling for a Hybrid
The best body of water for hybrid striped bass fishing is the Ohio River, but East Fork Lake in Bethel and Buckeye Lake in Millersport are the top lakes. Buckeye Lake is a 3,100-acre lake just 33 miles east of Columbus and offers boating, swimming and picnic grounds in addition to fishing. There are no daily limits on hybrid striped bass in Buckeye Lake, but a valid Ohio fishing license is required. East Fork Lake is stocked annually with hybrid striped bass, and the overall catch numbers and size of the specimens are rated excellent by the ODNR Division of Wildlife. The daily catch limit for East Fork Lake is four specimens of 15 inches or more. Charles Mill Reservoir near Mansfield is also known for its high population of hybrid striped bass and is rated second for large specimens of more than 18 inches.
Bait All Eight
The Portage Lakes near Akron include eight lakes totaling 2,034 acres. Eight boat ramps provide access to the lakes, with a number of private marinas offering boat rentals and fuel. Handicapped fishermen can use the wheelchair-accessible ramp on the North Reservoir. Largemouth bass can be found in the East Reservoir, Long Lake, the North Reservoir, Turkeyfoot Lake and the West Reservoir, with the largest average and highest numbers coming from Long Lake.
The Best Bass
Head 37 miles east of the Portage Lakes to Lake Milton, where anglers can fish for largemouth bass, smallmouth bass and white bass. This 1,685-acre lake offers three boat launches, a marina that provides fuel and 100 seasonal dock rentals, with access to the Mahoning River at the south end of the lake. The overall numbers of largemouth bass are poor, but the specimens are excellent sizes. Smallmouth bass are quite abundant with good sizes being recorded, while the white bass population is fair with poor sizes. There are no site-specific regulations for this lake, but Ohio limits smallmouth and largemouth bass to five specimens per day of at least 12 inches. Knox Lake near Fredericktown is known for its high numbers of largemouth bass of more than 20 inches. It is one of the best places in the state for this type of bass. The site-specific regulation for this lake is a daily limit of five largemouth bass of at least 18 inches.
References
Resources
Writer Bio
Renee Rall-Harden has worked as a writer and editor for more than six years. She has contributed to magazines such as "Ohio Magazine" and online for Pratt & Lambert's Personal Expressions. Rall-Harden holds a Bachelor of Arts in journalism and English from Ashland University.