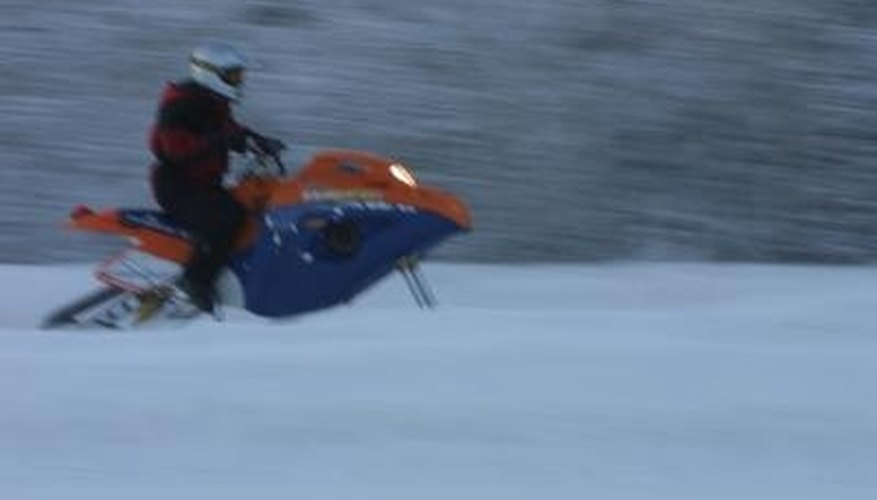 Polaris is a Minnesota-based manufacturer of snowmobiles and all terrain vehicles (ATVs). Polaris was founded in 1954 and also produces motorcycles and once manufactured watercraft as well. The 1999 Polaris Indy 700 XC Special was one of 31 snowmobile models produced that year by the company.
Physical Features
The 1999 Polaris Indy 700 XC Special was 45 inches high and 46.5 inches wide. The sled had a ski stance or length of 41 inches and weighed 484 pounds. The front skies were composite material with racing carbides. The rear track of the snowmobile was 15 inches wide by 121 inches long. The 2001 introductory price was a suggested $6,799.
Engine and Drivetrain
The snowmobile was produced with a 700cc liquid cooled case-reed inducted engine. The 700cc engine made this one of Polaris's more powerful snowmobiles produced in 2001. It also came equipped with a digital ignition and had a fuel capacity of 11.8 gallons. It had a single pipe exhaust system and a Polaris LC HPB brake system with a standard parking brake. This model had a 3 quart oil capacity.
Other Features
The Polaris Indy 700 XC Special came equipped with a racer seat with extra padding compared to the standard 700 XC model. It also featured halogen headlights and standard hand warmers on the handle. There were also optional upgrades for a storage rack, mirrors, backrest, electric temperature gauges and towing hitch. The only color available was the metallic white.
References
Writer Bio
Living in New York City, Nicholas Briano has been a professional journalist since 2002. He writes for "The Wave," a community weekly covering the borough of Queens. Briano holds a Bachelor of Arts in journalism from Brooklyn College.