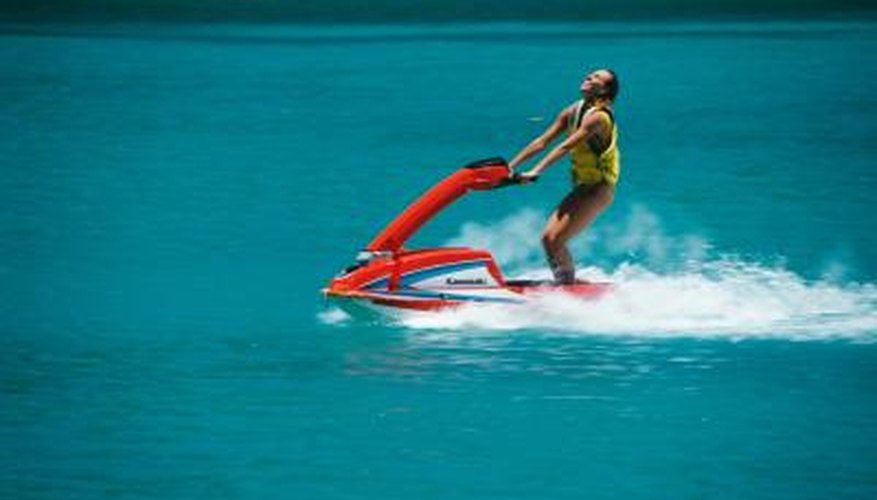 The 1100 ZXI is a model of jet-ski manufactured by Kawasaki, first released in the year 1996. Jet-skis are a type of recreational vehicle classified as a "personal watercraft," or "PWC." They are designed for use in both salt water and fresh water environments. The technical specifications of a 1100 ZXI personal watercraft refer to the type of hardware that is installed in the unit.
Engine and Size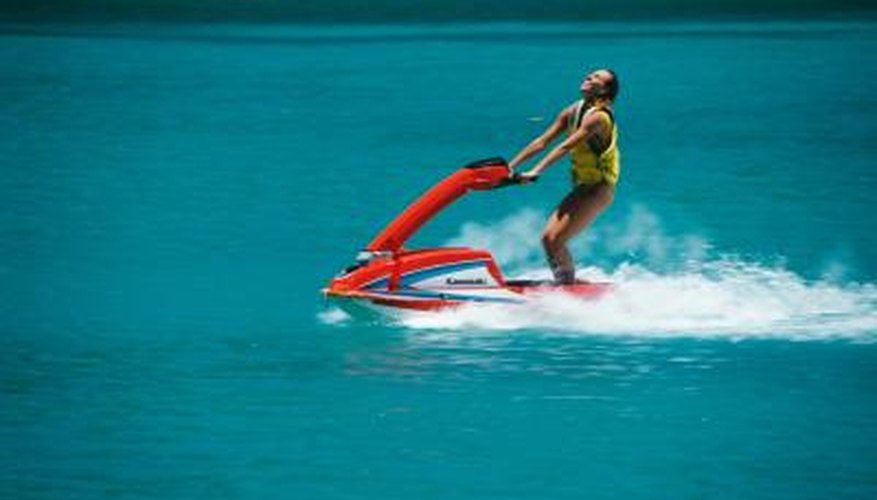 Jupiterimages/Photos.com/Getty Images
The 1996 Kawasaki 1100 ZXI personal watercraft has a 130 horsepower, 1,100 cc two-stroke engine. Horsepower is a measurement of the unit's power, and 130 horsepower would mean that the engine is capable of outputting between 95,616 and 97,500 total watts. Its total length, from the front tip of the unit to the rear motor, is 8 feet. The total length of a personal watercraft is always important to know, especially when purchasing towing equipment for your device.
Physical Design
The 1996 Kawasaki 1100 ZXI has the same physical design as another Kawasaki model, the 900 ZXI unit. The significant difference is that the motor attached to the 1100 ZXI is physically larger than that of the 900 ZXI. The jet-ski itself is designed to fit one-to-two people comfortably. Trying to fit any additional people on the unit is considered a hazard.
Top Speed
The 1996 Kawasaki 1100 ZXI has a top speed of 70 mph. However, if you're new to personal watercraft or are in an area heavily populated by swimmers, fishermen or other types of people it is never a good idea to disregard the safety of yourself or others and actually take it up to that top speed. At maximum speed, the engine in the ZXI can be expected to experience between 7,000 and 8,000 rpm.
Fuel Injection System
The 1996 Kawasaki 1100 ZXI has a 4.5-gallon gas tank. Filling up the tank on your jet-ski requires you to mix oil with your fuel in a recommended 50:1 (fifty to one) ratio. This means that for every one gallon of fuel that you put into the tank, you need to mix it with about two and a half ounces of oil.
References
Writer Bio
Stephen Lilley is a freelance writer who hopes to one day make a career writing for film and television. His articles have appeared on a variety of websites. Lilley holds a Bachelor of Arts in film and video production from the University of Toledo in Ohio.