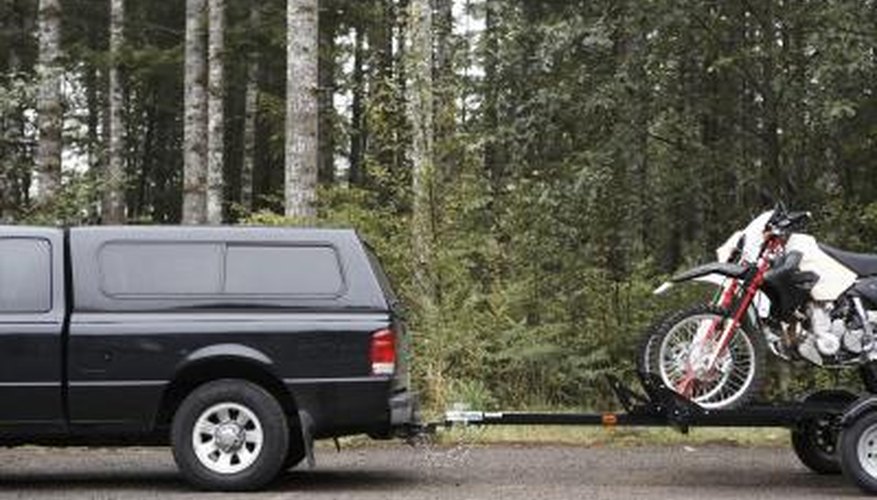 As a recreational vehicle operator traveling the United States, each time you enter a different state you must observe its rules of the road. States' trailer towing laws are designed to ensure safe use of roads and highways. Whether you intend to visit the National Civil War Museum in Harrisburg, the chocolate town of Hershey or the wealth of U.S. history that resides in Philadelphia, knowing Pennsylvania trailer towing laws will help you prepare for your trip.
Size
The height of your trailer cannot exceed 13.5 feet. The width limit on state routes is 8.5 feet. However, some roads in the state have a posted width limit that differs, such as 8 feet. In this instance, the posted limit prevails.
There is no specified limit on the length of a travel trailer or fifth wheel trailer, but the length of any recreational vehicle rig that includes two vehicles cannot exceed 60 feet overall. Motorhomes have a stated length limit of 45 feet. You can only tow one vehicle in Pennsylvania: towing triple is not allowed.
Equipment
Specific safety equipment is required in Pennsylvania. You must have safety chains. A breakaway switch is mandatory. Every RV must have a fire extinguisher on board. Either flares or alternate reflective signs are required. You must use windshield wipers and have lights on when road conditions require them.
When your trailer is at its dry weight as it was delivered from the factory (unladen), and it weighs 3,000 pounds or more, you must have trailer brakes. If your trailer has a gross weight greater than the empty weight of the vehicle that tows the trailer, you must have trailer brakes. Under all circumstances, if the weight of trailer is in excess of 40 percent of the weight of the tow vehicle, it must be equipped with trailer brakes.
Riding
In Pennsylvania, trailer laws are specific about passengers during transit. Passengers cannot ride in a towed trailer with one exception: you can ride in a fifth wheel trailer provided it has a visual and audible device for communication between the towed and towing vehicle, and the fifth wheel must be equipped with safety glass. You cannot ride in a pickup camper.
Rest Area Parking
Overnight parking in state rest areas is not permitted.
References
Writer Bio
Arizona-based Mary Schultz has contributed articles about family, health, home improvement, agriculture and travel to newspapers and magazines. For over three award-winning decades as a marketing writer, Schultz has focused on technology, financial and insurance services and products, medical care, health and fitness, community heritage, tourism and charitable causes. She holds a Bachelor of Arts, honors English, from California State University, Northridge.