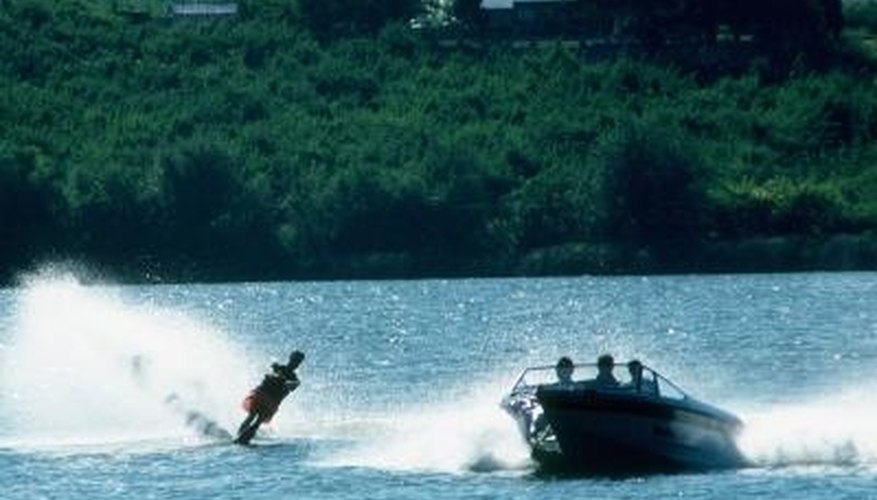 Combining a force-based, two-stroke, 90-horsepower outboard motor with a jet pump gets you a lot of fun out of a small boat. More personal watercraft than cruising vessel, this little boat combines the best of two worlds. Like a larger boat, you can gunkhole in your favorite spot, do a bit of swimming and then stretch out to dry in the sun. Like jet ski, you can get wet in the spray as you zip around, twist and turn on the water.
Engine
The top speed of the Bayliner Jazz is 40.6 mph, and she will accelerate from zero to 25 miles per hour in 6.54 seconds.The engine is a 75.1cc Mercury SportJet 90; the Mercury SportJet 120 was an optional feature. The standard engine provides 90 horsepower with a 17-gallon fuel capacity. Jazz operators can nosedive the boat by reversing the engine at speed; this maneuver does no mechanical harm to the water jet engine.
Description
The boat is 14 feet long and has a beam of 5 feet, 8 inches. Weighing 1,000 pounds, it has 16.7 square feet of deck area and the cockpit is 17 inches deep.
In the aft seat, three passengers can ride next to each other. It has no seating in the bow area when the boat is underway nor is there a bow cushion for catching some rays while at anchor. Popular Mechanics described the interior fit and finish as, "thin seats; affordability chief interior attribute." It has an ample 8.3 cubic feet of storage space.
Handling
The Jazz has a relatively flat bottom, which contributes to the maneuverability and handling of the boat. According to Jerry Stansfield, Director of Marketing Communications for U.S. Marine, "It was seen as the next step in the personal watercraft revolution -- a boat that you could drive instead of ride. It had to be able to spin out and do things a wet bike could, but also be well-mannered and predictable. I've seen our test drivers do many things in them, but they've never been able to flip one."
History
Bayliner built two jet boats since J. Orin Edson founded the company in 1955, the Jazz and the Reflexx. The company put two years of research and development into the Jazz. Originally introduced in 1993, the base price for a Bayliner Jazz in 1994 was $8,495 and included the trailer. In 1996, Bayliner added an aft facing seat so one passenger could keep an eye on water skiers behind the boat and the 120-horsepower engine was standard.
References
"Motor Boating and Sailing"; Joy Riders; Michael Verdon; August 1994
Writer Bio
Linda Zukauskas began writing in 1989. She is now a freelance writer for nonprofits and municipalities. Zukauskas is also a reporter for "Voices" newspaper. Her work has appeared in various online publications. She graduated from the University of Connecticut with a Bachelor of Arts degree in English.