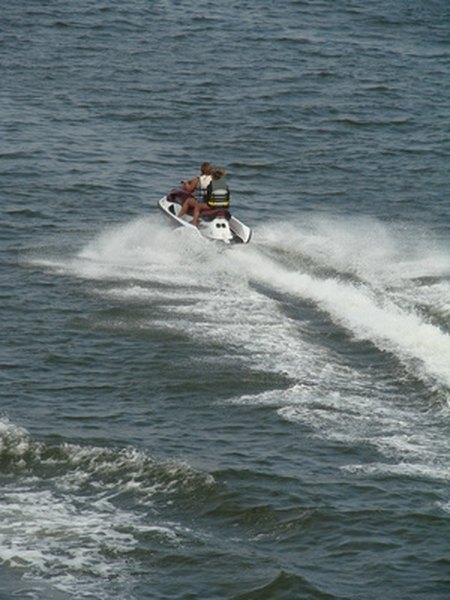 The Thief River Falls, Minnesota-based Arctic Cat company stuck its toe in the personal watercraft market, making the Tigershark from 1993 to 1999 with some success. Boating magazine, in a 1995 article titled "Tigershark 900: tour de force," praised the three-seater waterbike for its design as a touring watercraft, rather than for high-performance water sports. However, Arctic Cat returned to dry land and now makes 20 types of all-terrain vehicles and more than 50 snowmobile models.
Engine and Carburetor
The Arctic Cat Tigershark 900 features a 900cc 72 horsepower Suzuki aluminum two-stroke, three-cylinder engine with a forced water intake cooling system and digital/RPM limiter overheat protection. There is a seven-gallon gas tank and 12V battery. It has a crankcase reed valves intake system, tuned pipe exhaust system and electric start. Top speed in the standard package is rated at 47 mph.
Body and Drive System
The 1995 Tigershark 900 is a three-person sit down model with a round nose and Tigershark's exclusive stepped hull design. It weighs 375 lbs. and measures 92.5 by 41.5 by 37.75 inches. The craft operates in a minimum of two feet of water with an axial flow single-stage jet pump and a stainless steel blade.
Value
Arctic Cat got out of the personal watercraft business in late 1999, after losing a costly patent lawsuit and declines in market share. Despite the age of the Tigershark 900 and its discontinued status, Kelly Blue Book has listed the Suggested Retail Value at $1,220 as of January 2011. When new in 1995, the MSRP was $7,299. The company remains strong, but parts for the discontinued Tigershark are becoming increasingly hard to find, according to owners commenting in the most popular personal watercraft forums.
References
Writer Bio
Nancy Cook Lauer began writing professionally in 1980. Her work has appeared in the "Tallahassee Democrat," "Naples Daily News," "Hawaii Tribune-Herald," "West Hawaii Today" and on Women's eNews. She's won national and state journalism awards, including a Capitolbeat 1st place in state government reporting. She holds a Master of Science in information sciences from Florida State University.