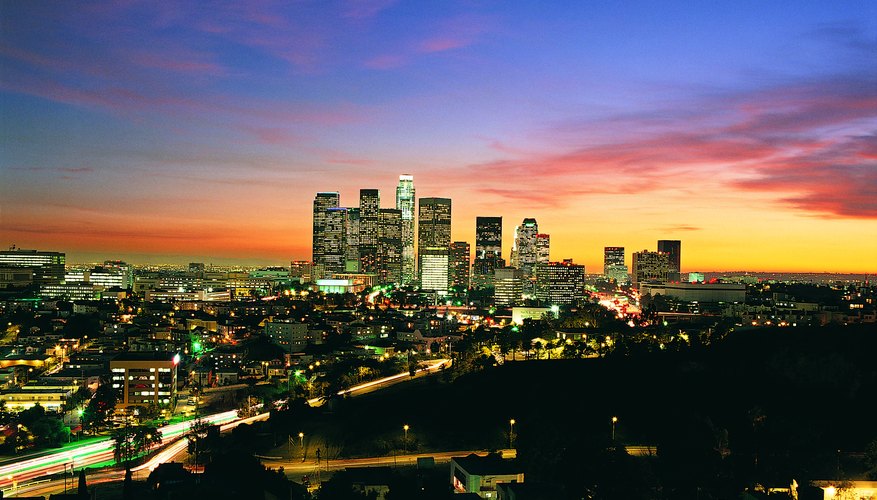 When you think of Los Angeles, the word "sunshine" comes to mind. Despite the Beach Boys and "Baywatch" and all of the images of sunny L.A. in the public imagination, the fact is the real Los Angeles comes out when the sun goes down. As much as there is to do in the daylight, L.A. at night is one of the most entertaining cities anywhere.
The Strange Museums of Hollywood Boulevard
Hollywood Boulevard has many bizarre, unusual attractions. At Ripley's Believe Or Not!, open until midnight at Hollywood and Highland Avenue, check out a two-headed goat, a two-trunk elephant and a statue of Angelina Jolie made entirely of paintball ammunition. The Hollywood Wax Museum, also open until midnight, is a short walk away and, for the morbidly inclined, a few blocks east on Hollywood and Gower is the notorious Museum of Death, open until 10 p.m., offering a grimly engrossing look at the many ways the fun can end.
Rock 'n' Roll and Riotous Comedy
Rock 'n' roll is integral to L.A.'s history and many of the clubs that nurtured legendary bands like The Doors, The Eagles, Guns N' Roses and dozens more still thrive with live music nightly. The Troubadour on Santa Monica Boulevard in West Hollywood has launched careers of such stars as Elton John and Florence and the Machine. The Roxy on Sunset Strip hosts big-name bands while the hipster, alt-rock set turns up at Satellite in Silver Lake. L.A. is also the comedy capital. The Groundlings, which has hosted Will Ferrell, Kristen Wiig and many SNL alumni, performs nightly on Melrose near La Brea. The Upright Citizens Brigade, where such luminaries of laughter as Zach Galifianakis and Amy Poehler can often be seen, does the same on Franklin Ave in Hollywood. The Hollywood Improv on Melrose hosts up-and-coming and big-name comedians on its stage.
Release Your Inner Film Geek
Los Angeles not only makes movies, it loves to debate them. There's a film screened every night -- from Hollywood greats to foreign art films and overlooked obscurities -- at the New Beverly Cinema, owned by film geek extraordinaire Quentin Tarantino. The Egyptian on Hollywood Boulevard at Las Palmas also hosts screenings in its comfortable, stadium-style theater, frequently followed by Q&A sessions with directors and actors. The Sundance Film Festival owns a chain of indie-only multiplexes, with the L.A. franchise at 8000 Sunset Boulevard.
Stargazing After Dark
Almost anyone who comes to L.A. wants to see stars. And there are millions on view at the landmark Griffith Observatory in Griffith Park, high in the Hollywood Hills. The Art Deco observatory opened in 1935 and was made famous in the 1955 movie "Rebel Without a Cause" starring James Dean. A bust of the iconic actor still stands on the site where a key scene was filmed. Hundreds of movies have filmed at the observatory since. While the observatory features a stunning planetarium show and its own powerful, public telescopes, every month there's a Public Star Party on the lush front lawn, when local amateur astronomers bring their telescopes and let anyone who wants to peer at the heavens -- perfect for a starlight picnic.
References
Resources
Writer Bio
Jonathan Vankin is an award-winning journalist with more than 20 years of experience. He has written for such publications as "The New York Times Magazine," "Wired" and Salon, covering technology, arts, sports, music and politics. Vankin is also the author of three nonfiction books and several graphic novels.