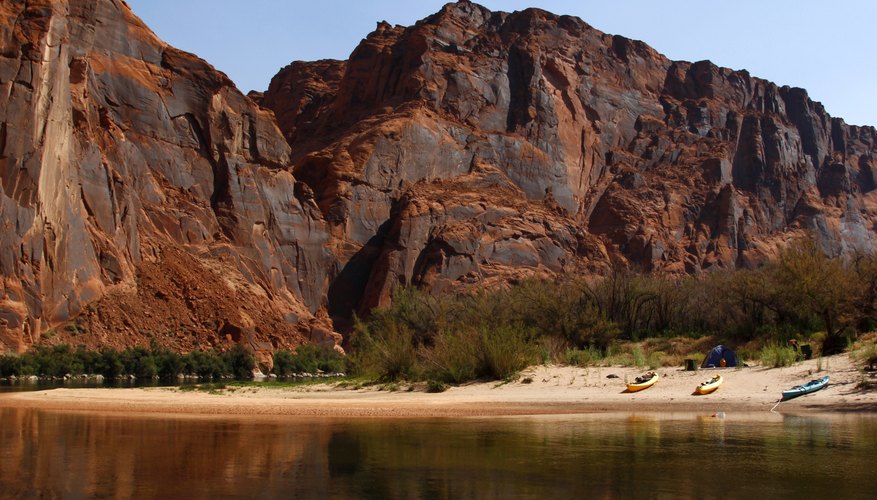 If Arizona is known for anything more than its warm, arid deserts, its the water bodies that offer respite from their summer heat. Each weekend, Arizonans pack their gear and pitch their tents on the shores of lakes and streams with boats in tow. Some of the state's best camping lies just off the beaten path where you can dangle your toes in the water just steps away from the water's edge.
Ashurst Campground
Listed as the number one waterfront tent camping site by "Arizona Highways," Ashurst Campground provides a scenic place to get away from it all and immerse yourself in your favorite outdoor activities. Put your boat or paddle craft on the water from the boat ramp, or catch the brisk breeze for a windsurfing session. Mountain bike along rustic two-track roads, or take a walk along the shoreline. Fish for trout, bass and channel catfish. The campground's 50 sites include two along the waterfront with grassy areas to set up your tent beneath the canopy of a gracefully spreading juniper. One primitive restroom is provided at the boat ramp, but you must bring your own water.
By Rushing Streams
Christopher Creek Campground and Cave Springs Campground were listed as the "Arizona Highways" third and fourth favorite places to pitch a tent. Both campgrounds lie at 5,500 feet elevation in north central Arizona. The creeks flow alongside or through the middle of each camp, making them ideal for children who want to spend downtime catching minnows and tadpoles. Cave Springs lies along Oak Creek beneath red sandstone cliffs and towering pines. Christopher Creek is just east of Payson with the creek flowing right through the center of the piney campground. The campgrounds are open April through October.
Along the Western Coast
Watch the setting sun reflect off the Whipple Mountains, turning them shades of mauve and crimson. Cattail Cove State Park -- another "Arizona Highways" favorite campsite -- provides 32 boat-in sites along Lake Havasu where you can stretch out on your own little private beach. The camping area includes pit toilets, garbage cans and picnic tables, but fires are not allowed. The sites are accessible only by water or by a grueling hike through the hills, so you can count on a more private camping experience than you'll find at most areas of the lake. Showers and potable water are available in the park's main campground.
Backwater Camping
The Lower Colorado River near Yuma is popular with water-skiers and other motorboat enthusiasts. Appreciate quiet waters at Squaw Lake, a side lake that is a designated no-wake zone. While the main campground has flush toilets, showers and water, quiet waterfront tent sites are found at primitive dispersed sites along the lake. Enjoy swimming, paddling, hiking or mountain biking along the lake. This campground is best experienced during spring and autumn, as summer temperatures often exceed 105 degrees.
References
Arizona Highways, July 2013: Beautiful Sites - 12 of Our Favorite Places to Pitch a Tent
Writer Bio
Indulging her passion for wide open spaces and outdoor fitness through the written word on a full-time basis since 2010, author Jodi Thornton-O'Connell takes the mystery out of outdoor skills and guides readers to discover fun ways to physically connect to natural surroundings.