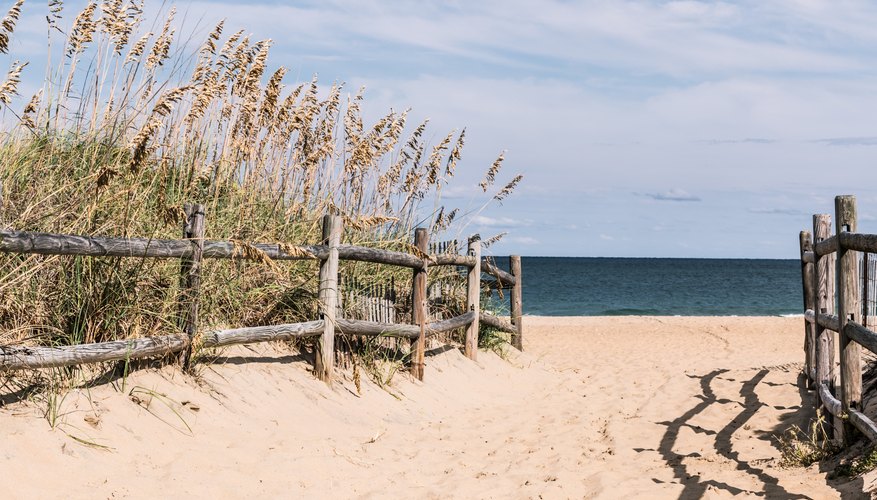 While Williamsburg is an ideal vacation spot for history buffs and families, there's no beach in this town that serves as a living museum of colonial times. Those looking for fun in the sun and on the sands will need to go beyond the town center with its craftspeople in period garb laboring as candle makers, bakers, tradesmen and blacksmiths. Thankfully, Williamsburg is close enough to a few beaches to cure your summertime blues.
Small and Friendly
If you are looking for a beach without the traffic or the crowds, Buckroe may be calling your name. Just 32 miles southeast of Williamsburg, this eight-acre seashore, with gentle surf and mild breeze on the Chesapeake Bay, will feel more like a small seaside town excursion and less like MTV spring break. In the summertime, the paved boardwalk is a favorite hangout spot; the pavilion hosts free concerts on Sundays and other forms of warm-weather entertainment. The park is dotted with picnic tables and restrooms. Grills are available by reservation. Lifeguards are on duty from 10 a.m. to 6 p.m. from Memorial Day to Labor Day.
For the Kids
If your traveling companions are under the age of 12, they might enjoy a visit to Fort Fun, a 15,000-square-foot wooden playground complete with a haunted castle, maze, slides, swings and bucking broncos. This sandy strip on the James River, about 30 miles from Williamsburg, is a popular free wading spot for locals. There's a snack bar with a deck and picnic tables. The lifeguard is on duty from 10 a.m. to 7 p.m. from Memorial Day to Labor Day, but you are allowed to swim at your own risk when no lifeguard is on duty. Huntington Park is also home to the East Coast's largest fishing pier.
Virginia Beach: Resort Area
Virginia Beach is a resort city with more than 35 miles of waterfront property. It sits at the mouth of the Chesapeake Bay about 60 miles southeast of Williamsburg. There are three distinct beaches; the Resort Area is the largest with hundreds of hotels and attractions. There is no shortage of things to do in Virginia Beach; multiple companies offer paragliding, scuba-diving and water skiing. The Resort Area averages 3 million visitors each summer, so expect large crowds during this period.
Virginia Beach: Sandbridge
Sandbridge is a four-and-a-half-mile strip of beachfront at the northern border of the Outer Banks. It is not nearly as populated as the Resort Area beach, and most of the beachfront property is single-family homes. Much of the beach, however, is public. Rental properties are available for daily, weekly and monthly rentals. Sandbridge borders Back Bay National Wildlife Refuge and False Cape State Park, if you long for kayaking or hiking adventures. Lifeguards are on duty from 9:30 a.m. to dusk at Sandbridge from mid-May to September.
Beachfront Camping
First Landing Park contains almost 3,000 acres of forest on the Chesapeake Bay. Located just an hour southeast of Williamsburg, its sequestered one and a quarter miles of beach have made it the most visited state park in Virgina. The park is the perfect spot for outdoor lovers with its 20 miles of paths for hiking, biking and nature watching. Created where the first English settlers came ashore in 1607, this park also contains a replica Chesapeake Indian Village.
References
Writer Bio
Bey Wesley is an experienced writer and researcher, and has written white papers for several software packages. Additionally he has researched books and magazine articles for major publications. He has a degree in English from James Madison University.