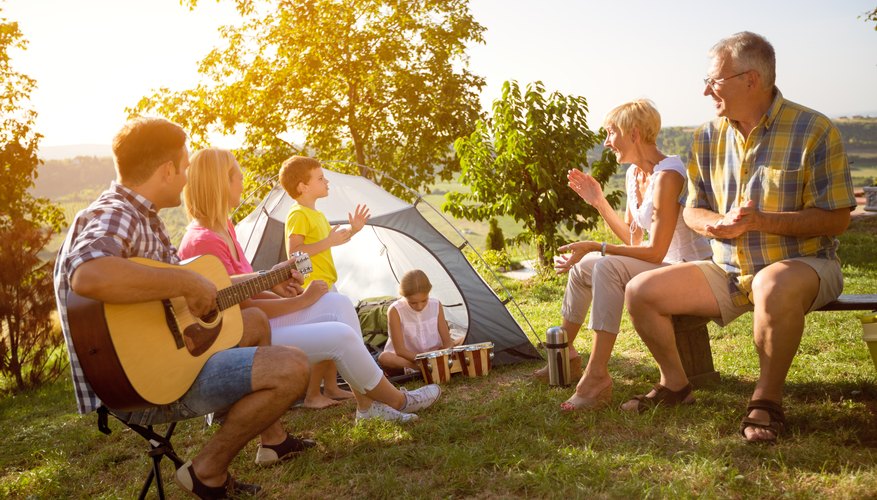 The Area's Best Spots for Family Camping
Savannah, Georgia is close to some of the best camping you'll find in the United States, since Georgia alone is home to 41 state parks that host more than 2,700 campsites. The Savannah area also borders South Carolina, which offers ocean access and natural beauty, making this southern region a premier destination for outdoor-loving families.
The best times of year to hit the area are fall and spring, when crowds are thin, the weather is warm, there's no hurricane risk, and rainfall is at its lowest. Spring is considered Savannah's most beautiful season, since that's when the local foliage, including azaleas and flowering dogwood trees, are at their peak. But the area's famous Spanish moss is up for viewing year-round.
Freezing temperatures are rare in the region, but you will run into some brutal heat (and humidity—the wettest months also happen to be the hottest) in July and August. The severe summer weather can sometimes carry on into September, as well.
If you and the family are ready to pack up the tent and head to a campground in the Savannah area, consider the following options:
Skidaway Island State Park
Located just a half-hour south of Savannah, Skidaway Island (52 Diamond Causeway, Savannah, GA) offers a coastal camping paradise. The park features hiking trails that wind through maritime forests and along salt marshes, as well as a boardwalk and observation tower. Wildlife include deer and fiddler crabs, but if the kids want something a little more interesting, the area is home to a 20-foot giant ground sloth replica and reptile room at the park's interpretive center.
One Skidaway campground splays out beneath oak trees and Spanish moss, offering RV hookups and a pet-friendly atmosphere. You can also trade in the tent for a camper cabin, which offers screened porches, air conditioning, bathrooms with showers and kitchen utensils.
The park charges a $5 daily-use pass.
Altamaha Regional Park
This one's more like an 80-minute drive from Savannah, but it's definitely within reach. You'll find 56 campsites at Altamaha Regional Park (1605 Altamaha Park Rd., Brunswick, GA) as well as rental cabins, swimming areas, picnic facilities, boat ramps, fishing spots and wilderness trails.
To stay in a tent on a campsite here, as of summer 2017, it costs $16 per night or $96 per week. Cabins go for a nightly rate of $85 in the summer and $75 in the winter. RV hook-up sites are $22 per night or $132 per week, and waterfront RV hook-up sites are $24 per night or $144 per week.
Fort McAllister State Park
The park spreads over more than 1,700 acres, with seven cottages and 58 campsites (plus two back-country campsites) available for rent. For the Civil War buff in your family, the park offers Civil War-era musket demonstrations, Civil War games (games played by war troops, reinvented for the family) and tours of historic sites.
Fort McAllister State Park (3894 Fort McAllister Rd., Richmond Hill, GA) is just 40 minutes south of Savannah. Parking is $5, and historic site admissions are $5 for kids ages 6 through 17, $9 for adults, and $8 for seniors ages 62 and older.
River's End Campground
This one's just 25 minutes west of Savannah proper, right on the beach. You'll have your choice of biking, fishing, surfing and hiking during the day, or you could cruise right into Savannah to enjoy what the city has to offer.
But there's a catch: The tent camping at River's End (5 Fort Ave., Tybee Island, GA) is primitive, which means no running water or electricity. The sites each have a fire ring, picnic table and tent site. You'll also have access to the rest of the park's amenities, which include bathhouses, a swimming pool and laundry facilities. River's End only has nine tent campsites, so make sure to grab your reservation far in advance.
The sites do not allow pets and have a strict two-vehicle maximum. Primitive tent sites are priced at around $50 per night.
Hunting Island State Park
Hunting Island State Park (2555 Sea Island Pkwy., St. Helena Island, SC) is actually in South Carolina, but it's just an hour and 15 minutes northeast of the city. The park's campgrounds are right by the ocean, and campers at Hunting Island can spend days on the beach, fishing, boating, horseback riding, hiking or biking.
The park's 10 tent sites are priced between $18 and $45 per night, with lower rates for winter months. The tent sites are accessible via trail, are available year-round and have access to running water.