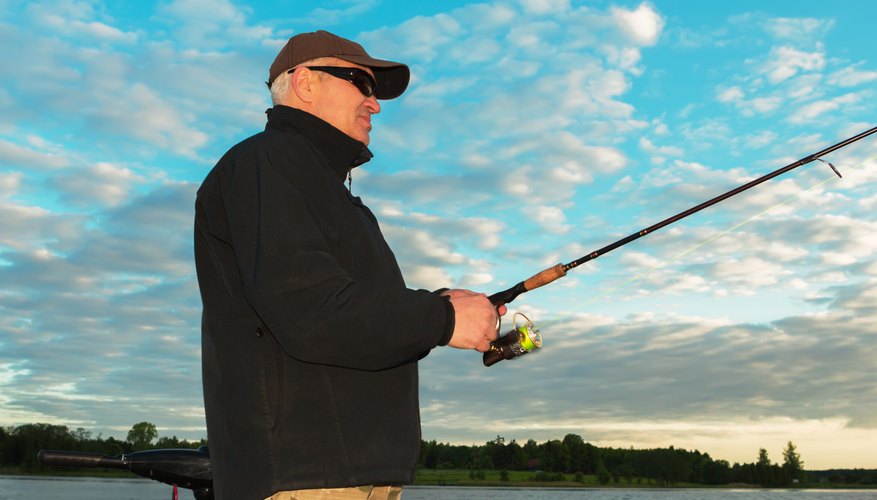 Known for vicious strikes and line-straining runs, northern pike are some of the toughest fish in Michigan's waters. These toothy creatures frequently exceed 40 inches and 20 pounds. Michigan's state record is a 39-pound monster that has been unsurpassed since 1961. If you're after pike, you can find them in countless lakes, ponds and rivers across the state, but a handful of Michigan lakes are particularly well-known for producing giants.
Lower Peninsula Lakes
Lake St. Clair is known for a variety of fish -- bass, walleye, muskellunge -- but northern pike are a prime target for many anglers in this Detroit-area lake. Spanning more than 275,000 acres, Lake St. Clair is part of the Great Lakes system, and big pike are frequently caught on broad, shallow flats and near the edges of shipping channels. Muskegon Lake, located between Lake Michigan and the mouth of the Muskegon River, is another perennial pike hot spot, with some of the best action taking place during fall. Other top pike lakes in the Lower Peninsula include Higgins Lake, Hardy Dam Pond, Fletcher Flood Waters, Portage Lake and Lake Mitchell. Though not technically a lake, Grand Traverse Bay is also one of the most likely places in Michigan to hook up with monster pike.
Upper Peninsula Lakes
Keweenaw Waterway is a massive system of lakes and channels in the Upper Peninsula that consistently gives up some of the biggest pike in the state. The section of the waterway known as Portage Lake -- not to be confused with the lake of the same name in the Lower Peninsula -- is especially productive, and the fortuitously-named Pike Bay also offers excellent fishing. Lake Michigan's Big Bay De Noc and Little Bay De Noc are prime pike destinations as well. Within the span of five years, the twin bays gave up 11 pike that met the 40-inch or 18-pound requirement for Michigan's master Angler Awards. Lake Independence, Lac La Belle, L'Anse Bay and Lake Gogebic are also known for big pike in the Upper Peninsula.
Fishing Tips and Tactics
Pike generally inhabit weedy, shallow areas in spring, moving to deeper drop-offs, reefs and shoals in summer, and then returning to the shallows in fall. Spring is arguably the most productive season for pike fishing, but each lake has its own schedule, and often the best way to find out where and when to fish is to talk with local anglers. Live minnows like shiners, alewives and suckers are among the best baits. Artificial lures can also be effective, and many seasoned pike anglers throw minnow-imitating spoons, spinnerbaits, crankbaits, jigs and soft plastics. Medium-weight rods and reels are generally sufficient, and 10- to 20-pound line is recommended. Steel leaders are also useful to keep pike from biting through your line once hooked.
Considerations
Seasons and limits for northern pike vary across the state of Michigan. In most of the lakes listed above, the daily limit is five fish, only one of which may be longer than 24 inches. A complete guide to Michigan's fishing regulations is available through the Michigan Department of Natural Resources website. A current Michigan fishing license is required to fish for pike and all other fish across the state. The Michigan DNR has an online licensing system on its website through which you can purchase a fishing license, but you can also get one in person at most bait shops and sporting goods stores statewide.
References
Resources
Writer Bio
When Richard Corrigan isn't writing about the outdoors, he's probably outside experiencing them firsthand. Since starting out as a writer in 2009, he has written for USA Today, the National Parks Foundation and LIVESTRONG.com, among many others, and enjoys combining his love of writing with his passion for hiking, biking, camping and fishing.