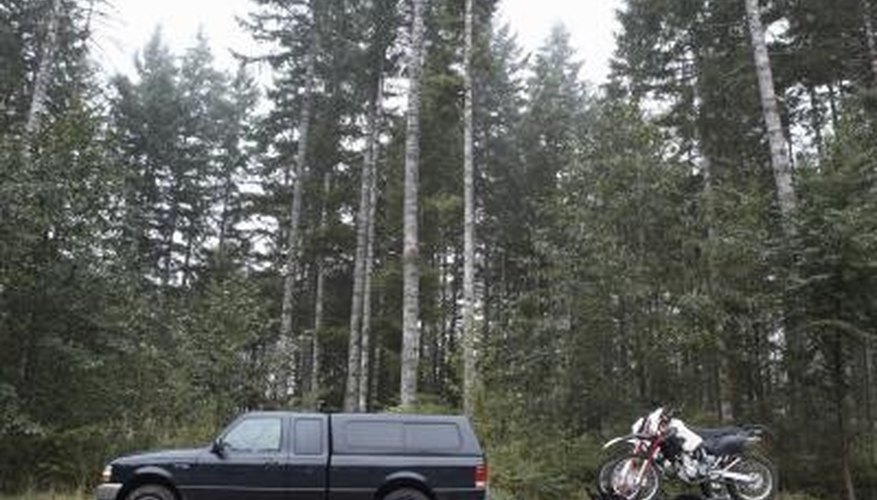 In a public announcement made May 21, 2008, Michigan Secretary of State Terri Lynn Land said, "Michigan is a paradise for boaters and campers alike, but don't let your eagerness to reach your favorite campsite or cabin make you forget safe trailer use." Michigan trailer-towing laws are relatively simple and straightforward. They encourage drivers in Michigan to safely enjoy the state's recreational camping and boating opportunities.
Size Regulations
In Michigan, the maximum trailer length is 45 feet. The maximum trailer width is 8 feet, 6 inches. The maximum trailer height is 13 feet, 6 inches. The maximum length overall is 65 feet. On some highways, the maximum length overall might be limited to 60 feet.
Safety Requirements
If you are towing a trailer 3,000 pounds or less, you must have a reflector on each side. You must also have safety chains connected from the trailer to the tow vehicle. The chains should neither drag nor be so tight as to prohibit sharp turns.
If you are towing a trailer more than 3,000 pounds, you are required not only to have reflectors and safety chains, but also trailer brakes and a break-away switch. A break-away switch automatically activates the trailer brakes if the trailer separates from the towing vehicle.
All turn signals, hazard lights, running lights and brake lights must be operational.
Special Endorsement for Triple Towing
If you pull a recreational trailer such as a boat trailer, cargo trailer or flat-bed trailer for hauling all-terrain vehicles behind a fifth-wheel trailer, you are required to obtain a special endorsement for your license. This "R" or recreational double-endorsement is available to drivers at least 18 years old from a branch office of the Michigan Secretary of State. Drivers must pass a test and pay a nominal fee.
This only applies to recreational vehicle drivers. A commercial driver who has obtained an endorsement to drive a double trailer is not required to have the "R."
Other Rules
Michigan permits riding in travel trailers, pickup campers or fifth-wheel trailers. Overnight parking might be permitted in rest areas, but only as posted. The maximum towing speed is 55 mph.
References
Writer Bio
Arizona-based Mary Schultz has contributed articles about family, health, home improvement, agriculture and travel to newspapers and magazines. For over three award-winning decades as a marketing writer, Schultz has focused on technology, financial and insurance services and products, medical care, health and fitness, community heritage, tourism and charitable causes. She holds a Bachelor of Arts, honors English, from California State University, Northridge.