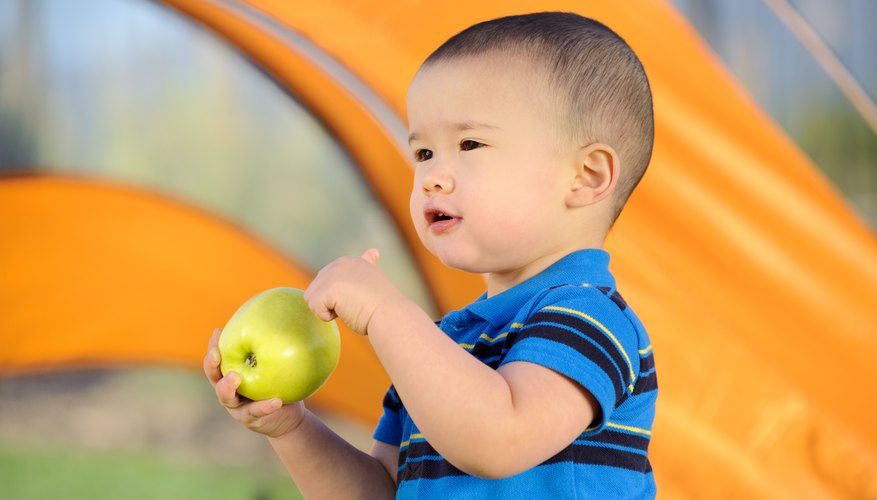 Rough It Without Making Life Rough for Your Baby
In some ways, babies are perfectly suited for camping. The woods are dark and quiet, and the low-tech lifestyle is no problem for kids who are too young to care about screen time. But sound carries across campsites, and your neighbors will thank you for keeping your baby quiet during your trip. More importantly, bringing the right gear keeps your baby happy and comfortable—while laying the groundwork for many years of wooded family bliss.
Sleeping and Transportation
A pack 'n play is an absolute must-have for camping with an infant. Set it up when you first get to the site and let your baby hang out inside while you set up camp. Your baby can also sleep in the pack 'n play at night.
Unless you don't plan to stray far from your tent, bring a carrier that you can use to comfortably haul your baby around. A backpack carrier is perfect for holding both your infant and the rest of your gear for a day hike.
This trip shouldn't require you to buy much new gear, however. You shouldn't need a new stroller for a camping trip, for instance. Either you'll stay in a well-populated site with paved paths and a nearby parking lot, or you'll probably want to carry your baby to the site. But if you have an all-terrain stroller, it may come in handy if you decide to explore a bumpy, unpaved trail.
Eating and Drinking
Check the amenities of your campsite. If you're planning to stay at a site with running, potable water, you're all set. But if you won't have access to drinkable water, either bring enough bottled water to last the trip, or bring a water treatment system to filter and clean water before you use it to make formula or give it to your baby to drink. If you're nursing, take care of yourself with plenty of snacks and water, especially if it's hot outside.
You may not have access to clean water to wash dishes, so consider bringing enough utensils and dishes to last the entire trip. If you're planning to stay at a site with potable water, bring detergent to clean dishes between meals.
Think about where you'll sit to enjoy meals, too. A portable hook-on high chair can attach to picnic tables. Or if you want to really embrace the outdoors, you may decide to eat all your meals picnic-style, on a blanket.
For healthy babies, camping can be perfectly safe, provided the weather is mild. But if your baby has any health concerns, get your pediatrician's blessing before taking your infant out into the wild.
Dressing for Warmth
Just like you, your baby should dress in layers while camping. Bring plenty of basic onesies and several warm top pieces, like fleece pants and sweaters. Pack socks, a warm hat, blankets and a cozy sleep sack in case it gets chilly at night. Mittens may be necessary, too.
If your baby is walking, bring shoes with rubber soles.
Hygiene Supplies
There are no grocery stores in the woods, but there might be one close by if you're camping at a popular spot near civilization. Still, your best bet is to pack more diapers than you use in a typical day. Wipes, too.
If you're planning to camp for more than one night, some cleaning wipes can help you keep your baby from getting too grimy. But if you're skipping showers, your infant can, too.
Everything Else
Protect that sweet skin from the blazing sun. Bring something that you can use as shelter during the day, like a portable sun shade that you can set up over baby's pack 'n play. A sun hat and sunglasses will also offer good protection while you're out exploring.
Think about other items that give your baby comfort, like pacifiers or loveys. Bring extras, because the first rule of camping with a baby is that everything will eventually get dropped in the dirt.
A first aid kit is essential, stocked with bandages, alcohol wipes, a thermometer and antibiotic ointment. You may want to buy a first aid kit made especially for babies. Don't forget the sunscreen, you can also use it on a baby who is more than 6 months old.
Finally, don't forget to clean up after yourself. Bring plenty of garbage bags to haul your dirty diapers out with you. The campers to use the spot after you will appreciate it.
References
Writer Bio
Cooking, travel and parenting are three of Kathryn Walsh's passions. She makes chicken nuggets during days nannying, whips up vegetarian feasts at night and road trips on weekends. Her work has appeared to The Syracuse Post-Standard and insider magazine. Walsh received a master's degree in journalism from Syracuse University.