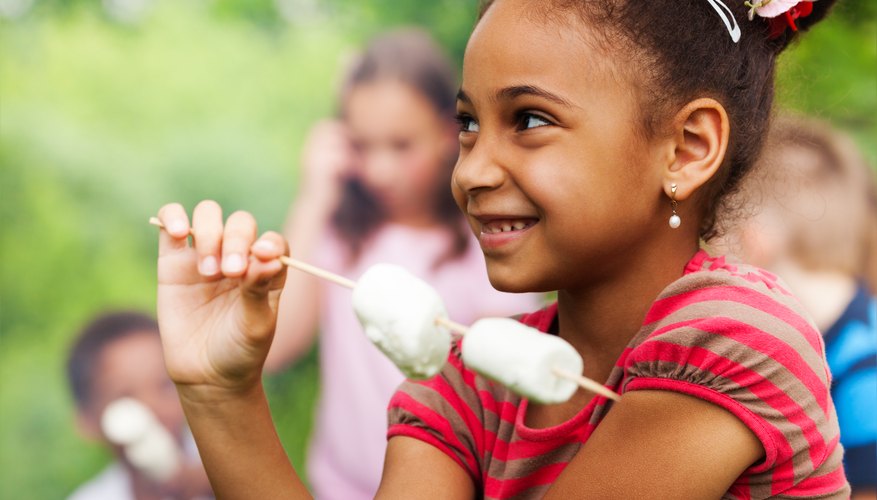 Keeping the Kids Happy in the Rain
Even though you checked the forecast before you left home, rain starts falling as you pull into your campsite. Not what you hoped for, but a wet camping trip doesn't have to be an unhappy camping trip. Pack some food that won't have to be cooked, set up a dry space outside your tent or RV and get ready for adventure. And, if it turns out everybody is miserable, pack up your tent and go home. There's always next weekend.
Embrace the Rain
Rain doesn't have to limit your outdoor activities. As long as it's not pouring rain and thunderstorms don't loom, go ahead and take a hike, enjoy a beach with fewer people around or even take the canoes out for a paddle.
Keep a weather app open on your smart phone, or set it to give alerts. If the weather changes and becomes potentially dangerous, head back to camp and batten down the hatches. Lightning is one of the most dangerous aspects of camping in the rain. In extreme weather, get into the car and inform your kids that they shouldn't touch anything like door or window handles.
A Must-Have
A high-quality tarp with grommets or plastic loops should always be packed with your camping gear. Lower-quality tarps will do in a pinch, or if you camp only a couple of times a year, but they're more likely to tear or wear out, rendering them useless as anything but a ground cover.
Before you hang your tarp, check the campground's rules about attaching things to trees. Pack rope, twine or bungee cords of varying length for hanging the tarp, if allowed. If there aren't enough trees, tie one side to your car's luggage rack and weight the other side down.
The tarp gives you and the kids extra dry space to hang out in. If you're at an improved campsite, hang the tarp high over the grill or fire ring and move the picnic table under the tarp. Make sure you keep the firewood dry, either in your vehicle or under the tarp.
Tent-Site Tips
If it's raining when you get to your campsite, note which way water is draining on the site before you set up your tent. Pick a high spot that won't be affected by runoff or puddles that might grow in a storm. Hang your tarp first so you can set up your tent in a relatively dry environment. Once the tent is set up, open the vents to keep air flowing, even in the rain.
Flash flooding is also a danger when you're tenting in the rain, so steer clear of rushing streams, stay uphill from ponds and, if you're camping in the West, don't set up in slot canyons. They can flood without warning when storms occur far from your site.
I'm Bored
Pack a deck of cards for kid-friendly games like War and Go Fish. If you don't know how to play the games, empower your kids by letting them teach you.
Engage in interactive storytelling. Start a story and then pass something like a rock from the campsite or an interesting twig to one of your kids and have him continue the story. Pass the rock around until everyone has a chance to embellish the narrative.
Make sure you have the right charging devices so you can keep your devices full. When all else fails, set up an afternoon or evening at the movies. Pick a dry spot, pour a bag of popcorn into a bowl and watch a movie on a portable DVD player or on your tablet. Let the kids pick the movie.
RV Camping
A tarp will come in handy, but probably won't be necessary if your RV has an awning. If you're camping with a large party, or want to have both a kid space and an adult space, hang a tarp near the RV.
Keep it clean by setting up a dry spot outside where kids can put their boots and shoes before donning slip-on shoes to wear inside. Hang wet jackets outside under the awning or tarp.
If you want your kids to stay indoors and sheltered from cold weather, pack folding canvas crates for each of them, loaded with favorite games and toys. Add one brand new thing to each, and make one for the grownups too.
References
Writer Bio
Meg Jernigan has been writing for more than 30 years. She specializes in travel, cooking and interior decorating. Her offline credits include copy editing full-length books and creating marketing copy for nonprofit organizations. Jernigan attended George Washington University, majoring in speech and drama.