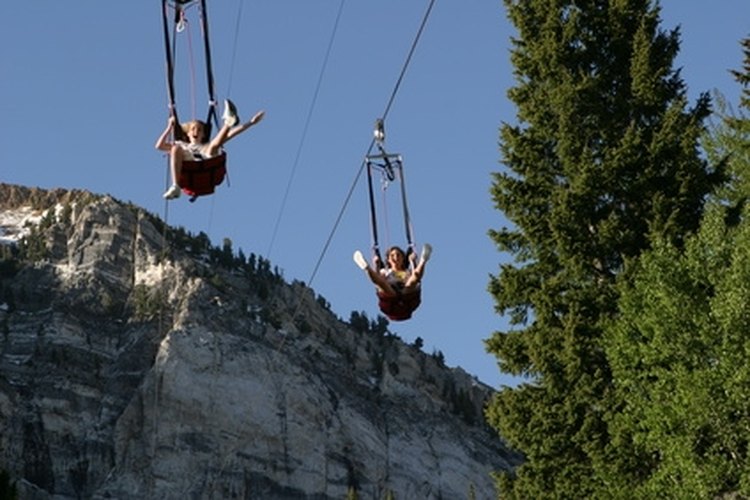 According to The Technical Standards and Safety Authority in Canada, zip line rides and tours have become more popular over the past few decades. Many amusement parks, outdoor camps and mountain resorts now offer zip lines of varying heights and lengths to meet the increased demand of guests. As riding a zip line often involves fast speeds and high elevations, there are strict regulations in place to ensure the safety of riders and to protect the parks and camps from legal culpability in the event of injury.
Insurance Certificate
Amusement park regulation agencies like the Technical Standards and Safety Authority (TSSA) require parks to obtain an insurance certificate before operating zip lines. Parks contact their personal insurance agents for an application and the certification of substantial insurance comes directly from the insurance company. Once the TSSA recognizes that the park's insurance covers the zip line, operation of the equipment can proceed.
Physical Restrictions
Zip Line USA regulations state that persons using a zip line should be in "good physical condition." Pregnant women and individuals with injuries or recurring medical conditions such as seizures are not permitted to ride zip lines.
Operating Schedule
The TSSA and other regulation authorities order all zip line owners to provide working schedules for their current seasons. This information includes daily operating hours for the entire season. Schedule forms can usually be downloaded from the regulation authority's website. The zip line schedule must be updated throughout the season if there are any changes.
License and Permits
Amusement parks must obtain a license and permit for operating a zip line. They must also pay all accompanying fees before they are permitted to run the ride.
Release Form
Before using the ride, Zip Line USA and most other operators require all participants to sign a waiver/release form. If the zip line rider is a minor, only parents and legal guardians over the age of 18 can sign the waiver. Friends and other relatives are not permitted to sign a waiver/release form for a minor.
Inspections
Once all other regulations are met, an inspection of the zip line equipment must be performed. Amusement parks can locate a local inspector through their governing safety commissions. The inspector will come to the zip line location and complete the inspection in person. This is the last stage of the regulation process. If the inspection is successful, the zip line can begin operation.