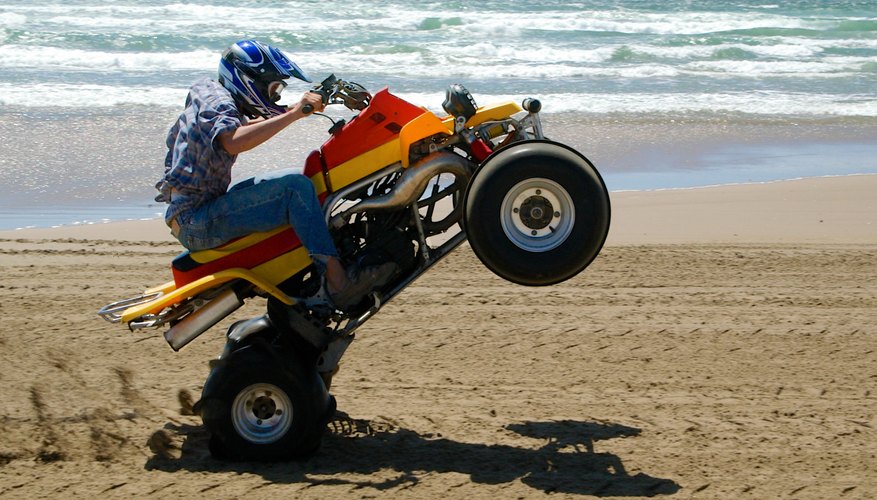 Located south of Lake Michigan, Indiana offers numerous ATV riding and camping opportunities, as well as hiking, boating, fishing and other outdoor activities. ATV trails can be found at privately owned, county and state parks. A variety of campgrounds can also be found as well, in the five primary regions of the state--north, east, south, west, and central regions.
Northern Indiana
Hangtime MX Park, in Akron, sprawls across 135 wooded acres. This privately owned park is open year-round and offers both tent and RV camping sites. While there, your family can also enjoy the fishing in their onsite pond. While in the northern Indiana region, you'll find lots to do at Potato Creek State Park and 287 tent and RV campsites as well as rental cabins. Spend the day fishing or rent a boat and explore Worster Lake, or enjoy the summer sun at the swimming beach. Potato Creek also offers mountain bike, hiking and bridle trails. In the winter, Potato Creek is a great place to cross-country ski and sled. Don't forget to check out the singing sands at the Indiana Dunes at Lake Michigan, named for the singing sound they make as you walk across the sand.
Eastern Indiana
Haspin Acres is a privately-owned ATV park located in eastern Indiana, in Laurel. You'll be able to explore 750 acres of trails, hills and mud bogs created for a variety of skill levels, from novice to expert. Haspin is open year-round and the park entrance fee includes camping. There is even fishing available at the onsite ponds. While in the eastern portion of the state, Ouabache State Park offers 124 tent and RV campsites with electrical service. Kunkel Lake, in the park, is a prime fishing lake in the region and boat rentals are available. You can also spend the day hiking or cycling the paved trail that meanders through the park. Your family can spend time at the swimming pool, playing tennis, volleyball or basketball.
Southern Indiana
Located in Elberfeld, Big Nasty Off Road Park is a privately-owned ATV park that is open Friday through Sunday, weekly. If you're looking for a challenge, Big Nasty's deep mud puddles, steep hills and thick mud bogs are sure to keep you on your ATV toes. Primitive camping is available at Big Nasty, for an additional charge. Hoosier National Forest also offers numerous camping opportunities in southwestern Indiana, with their 10 campgrounds. There are more than two dozen hiking trails in Hoosier, from the one-mile Hemlock Cliffs hike to the 32-mile Wilderness West hiking and bridle trail. Bring your mountain bike and enjoy the 13 bike trails ranging from the easy, rolling Birdseye Trail to Youngs Trail with its challenging climbs and technical single track.
Western Indiana
There are several ATV opportunities in western Indiana, including Badlands Off Road Park, in Attica. This is a privately-owned 700-acre park where you'll enjoy a wide variety of terrain from sand dunes to mud bogs to gravel hills to forested trails. The park is open year-round, from 9 a.m. to 5 p.m.. The Redbird State Riding Area, in Linton, is the state's first off-road riding area owned by the state. Managed by the Department of Natural Resources, the abandoned coal mining area is now 1,400 miles of professionally maintained and managed riding trails, for all skill levels. Starting in April, Redbird is open Thursday through Monday, from 9 a.m. to 8 p.m. Camping at nearby Greene Sullivan State Forest includes 100 family campsites and 20 horse campsites. Your family can enjoy hiking the 8,000-acre forest, fishing the more than 120 lakes, or spending the day mushroom hunting.
Central Indiana
Although central Indiana may be best known for the Indianapolis 500, you can go beyond simply being a spectator on your visit to this region. Lawrence County Recreational Park is a county-owned park with more than 40 miles of single track and ATV trails. You'll explore dense forests, gentle hills and open meadows, on separate trails for ATVs and motorcycles. Dune buggies, Jeeps, 4x4s, and sand rails are prohibitied in the park. Tent and RV camping sites are available onsite. In Bedford, Stone City Ranch features trails that meander through grassy fields, rolling slopes, and forested areas. You'll enjoy the challenge of tabletops, rockers and doubles. Camping is also available at Yellowwood State Park, with their 80 primitive sites and 10 horse camp sites. Yellowwood Lake is the central feature of this more than 2,000-acre park, where you can spend the day fishing, boating or hiking its shores.
References
Resources
Writer Bio
Kimberly Wylie has been a professional, full-time freelance writer for nearly a decade. She is the author of the book "Hiring the Right Candidate" and has written for several online and print publications. A gifted wordsmith, her work has included everything from movie scripts to patent documentation.