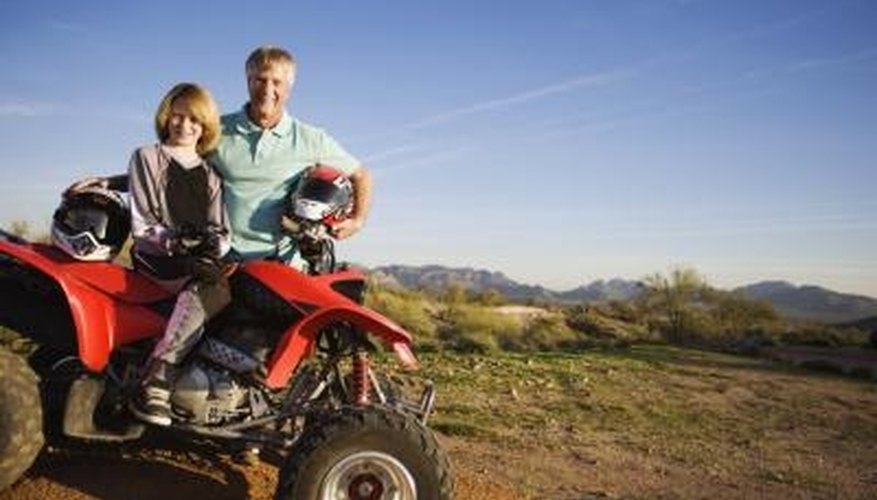 Yamaha introduced the Warrior ATV, a four wheeler with two-wheel drive, in the late 1980s. Built for all types of ATV riding, from the relatively smooth sailing of an abandoned rail line to the roughness of a trek far off the beaten path, the Warrior offered speed and durability. The Warrior line eventually became known as the Raptor, but the machine has changed little since its inception.
Engine
The Yamaha Warrior was manufactured with a 348-cubic centimeter, four-stroke, air-cooled engine with a single overhead cam. The bore and stroke was 83 mm by 64.5 mm, with a compression ratio of 9:2:1. The gas tank varied in size, holding 3.2 gallons on early models and 2.4 gallons in later years.
Transmission and Drive Train
The transmission was a six-speed manual with reverse. The drive train was two-wheel drive with a sealed O-ring chain.
Electronics
An electric DC ignition fired up the Yamaha Warrior, which had dual 30-watt multi-reflector headlights.
Braking and suspension
The front and rear brakes on the Warrior were hydraulic disc, with dual hydraulic discs on the front. The suspension was independent double wishbone with five-way adjustable shocks. The shocks had 7.9 inches of travel. Ground clearance was 4.9 inches. The front tires on the Yamaha Warrior were AT22x7-10s, while the rear tires were AT22x10-9s.
Dimensions
The Yamaha Warrior was 72.4 inches long by 42.5 inches wide by 42.5 inches high. It had a seat height of 30.1 inches and a wheelbase of 47.2 inches. The dry weight of the Warrior was 397 pounds.
References
Writer Bio
Greg Fish has been writing professionally in Maine since 1987. He has reported and edited at "Lincoln News," "Advertiser Democrat" and the "Bar Harbor Times." Fish currently writes for the "Penobscot Times."