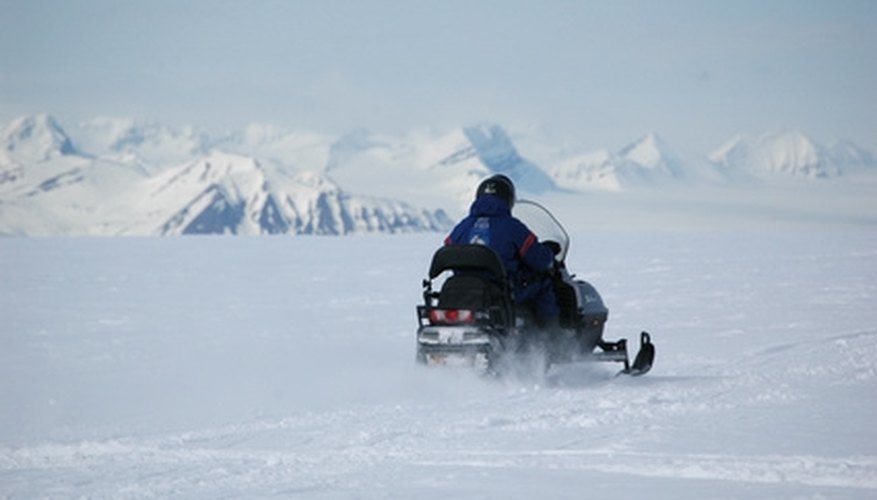 Yamaha is one of the market leaders in snowmobile manufacturing. Their snowmobiles come with engine specifications appropriate to a range of markets, including high performance race specification snowmobiles, such as the Nitro FX with in excess of 1,000 cc, on the upper end of the scale, to the light 246 cc Bravo LT.
Yamaha Vmax Engine Specifications
The Yamaha Vmax-4, caused quite a stir when it was released onto the market in 1992, with its two-stroke, four-cylinder engine. With 791 cc, the top of the range Vmax-4 800 ST produces 1,500 rpm when idle, 3,400 engagement rpms and 8,350 shift rpm. The Vmax 600 ST VX600S has a 598 cc engine, with 1,600 idle rpm, but higher engagement rpm, at 3,600, meaning it is able to accelerate faster from standstill. It can produce up to 8,000 shift rpm.
Yamaha FX Nitro
The Yamaha FX Nitro has a four-stroke, three-cylinder, 1,049 cc engine. The liquid-cooled engine is capable of producing between 1,450 to 1,550 of idle rpm, 3,750 engagement rpm, and 8,750 shift rpm. The FX Nitro uses a variable ratio YVXC transmission, and fuel delivery is accomplished by a 41 mm Mikuni fuel injection system. It employs a Digital Transistorized Coil Ignition (TCI) with a throttle position sensor.
Yamaha Apex XTX
The Yamaha Apex XTX Cross Country snowmobile has a four-stroke, 998 cc engine, with four cylinders. As with the Nitro, it uses a liquid-cooling system, and is capable of generating 1,500 idle rpm, 3,500 engagement rpm, and 10,500 shift rpm. The Apex XTX employs a YVXC transmission with variable ratio, and a magnesium chaincase and cover. Fuel delivery to the engine is accomplished by 39 mm fuel injection.
Yamaha Phazer MTX
The Yamaha Phazer MTX is part of Yamaha's Mountain range of snowmobiles, and contains a four-stroke, two-cylinder, 499 cc engine capable of producing 1,700 idle rpm, 4,300 engagement rpm, and 11,300 shift rpm. It uses liquid to cool the engine, and fuel delivery is accomplished through a 43 mm fuel injection system. The Phazer MTX employs a YVRC variable ratio transmission system and a Digital TCI with a throttle position sensor.
References
Writer Bio
Cathel Hutchison began editing and writing in 2007 and has worked with various institutions and publishers, including editing courses for the Open University and captioning for the cultural archive "Am Baile." Hutchison holds a Master of Letters in history from the University of Aberdeen and a Master of Arts in American studies from the University of Edinburgh.