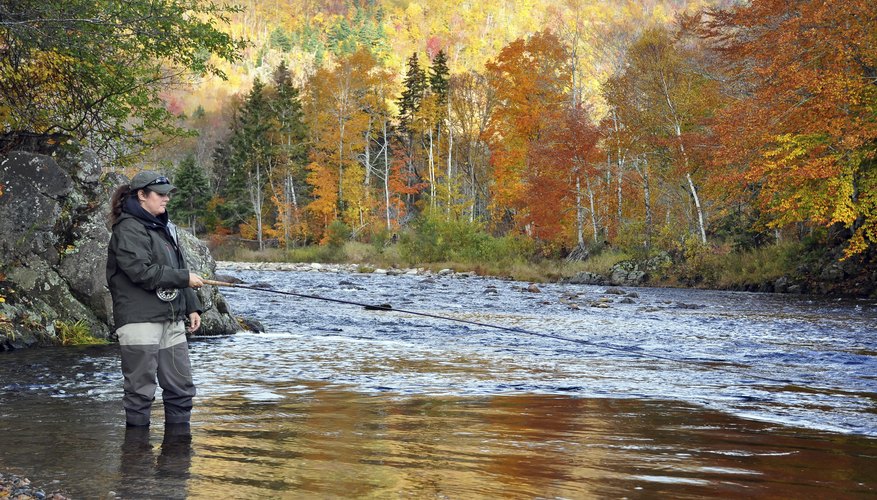 Salmon fishing has been a major part of the sport fishing industry in Michigan since the introduction of several salmon species into the Great Lakes system in the 1960s to control alewife populations. Today, anglers chase several species of salmon in Michigan waters, including Atlantic salmon, Coho salmon, kokanee salmon, and the Chinook or king salmon. As of 2010, the salmon season in Michigan is open year round on most waters, but fishing at certain times of the year can maximize chances of success.
Michigan Department of Natural Resources Regulations
The Michigan Department of Natural Resources (MDNR) sets regulations on all aspects of fishing in Michigan, including seasons, size and catch limits as well as tackle restrictions, fees and other regulations. Anyone wishing to fish for salmon in Michigan should consult the current year's fishing guide (see Resources).
Atlantic Salmon
Atlantic Salmon were once native to Lake Ontario, but they disappeared from the Great Lakes system by the turn of the 20th century. The MDNR began to stock the fish into the upper Great Lakes and connected waters in the early 1970s and today good fisheries are maintained in many Michigan waters. Anglers catch Atlantic salmon in the Great Lakes beginning in the spring and continue to catch these fish through the spring and summer. Atlantic salmon begin their spawning runs in mid-summer, and many are caught in Great Lakes tributaries.
King Salmon
The king salmon is the target of choice of many Michigan anglers. These fish can get large, with 20 lb. to 30 lb. specimens common. Michigan's state record is a 46 lb. fish caught in the Grand River in western Lower Michigan. The action for king salmon really begins on the Great Lakes in late spring, and continues throughout the summer until the fish begin their spawning runs in August and September. As the fish begin to mass offshore from river mouths, anglers take large numbers of good-size fish in these areas. Fisheries near Muskegon, Ludington and Manistee produce thousands of these fish each year. By mid to late August in most years, the fish have begun to move upstream, and many are caught in Michigan's cooler and faster streams and rivers, especially from the Grand River northward.
Coho Salmon
Coho salmon, a pacific salmon species, were the first salmon to become firmly established in the Great Lakes in the early 1960s. When the first adult fish began to run upriver to spawn during 1967, fishing in Michigan was changed forever. These fish may be caught on the Great Lakes at any time of the year, but the real seasons for these fish are in Lake Michigan in early spring and again in the late summer and early fall. The MDNR reports that migrating fish may be caught in some rivers, like the St. Joseph River as late as Christmas. In Lake Superior's Munising Bay, Coho salmon are caught through the ice during the winter months.
Other Salmon Species
Michigan waters are also home to other salmon species, including pink salmon, kokanee salmon and chum salmon. All of these follow the same basic seasonal patterns of the other salmon, with the best times to catch them being the spring and late summer/early fall. Michigan is a fairly large state, and even within species, spawning runs sometimes vary. In the far north, spawning runs tend to be earlier, and begin in May. In the more southerly regions, spawning runs may go into October.
References
Writer Bio
Christian Petersen has been writing professionally since 2010, publishing for several online media outlets. He has been an amateur writer for many years writing short fiction and entertainment reviews. Petersen attended Grand Valley State University and has over 20 years of experience in the restaurant and consulting industries, serving as an executive chef and concept consultant.