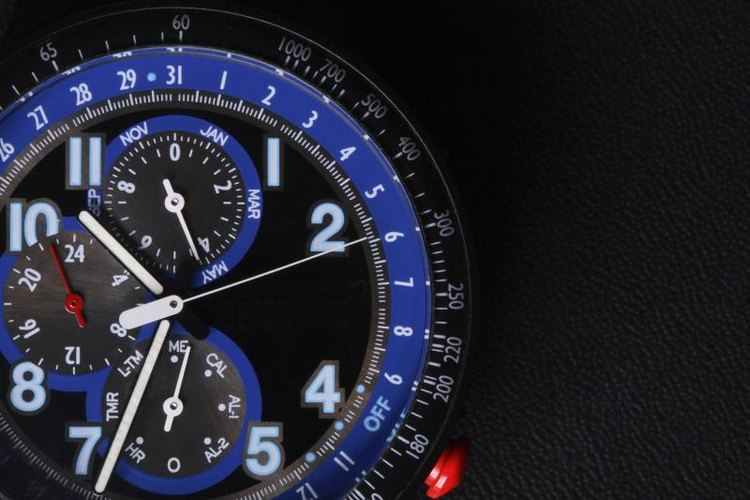 A dive watch is a useful timing tool to use when scuba diving, and a stylish accessory to wear outside the water. Dive watches have important characteristics, including water resistance, depth and pressure resistance and a unidirectional rotating bezel, that separate them from the normal watch. Ensure the proper use, maintenance and understanding of your dive watch to enhance your dive experience.
Watch Requirements
A dive watch is rated by either depth or pressure. Simply displaying water resistance as an attribute is not enough to qualify a timepiece as a dive watch. It is recommended that the depth resistance be a minimum of 200 meters, to ensure functionality at any possible dive depth. Additionally, a dive watch must have a unidirectional adjustable bezel. The bezel must only turn counterclockwise so that, should it be knocked out of place when diving, it can only move conservatively. It will then show a dive of longer than real time, rather than a shorter period of time, a misreading that could put the diver at risk of diving for too long. The bezel should be tight enough that it will not easily move.
Other Helpful Functions
Though not required on a dive watch, it is also helpful that the piece have a clear face, so that information can be read easily. A limit of only three hands is also helpful, so as not to create unnecessary clutter, also enabling a clear read. A good dive watch should have a screw-down crown rather than a push/pull crown, as the former will give the watch a more watertight seal. Luminous dials are another helpful addition, for legibility in low visibility or on dark dives.
Setting the Watch
Before you use the watch, it must be properly set, according to its instruction manual. If you do not have access to the instruction manual, see if you can access it online. Proper setting, battery installation and user understanding is a prerequisite for all dive watch users. Understand how to properly read the watch as well, by referring to the user manual.
Proper Bezel Use
The rotating bezel can show up to 60 minutes of elapsed time. To use, align the triangular zero mark of the bezel with the minute hand upon entering the water. Read the elapsed dive time during your dive by following the minute hand of the watch to the bezel-indicated time.
Dive Watch Maintenance
Most dive watch manufacturers recommend that the devices have their seals changed and the watch pressure-tested every three years. These tests may be performed by an authorized service and repair facility. Watch owners are also responsible for daily maintenance. Rinse the watch in fresh water after use in seawater. Inspect the watch and wristband for defects before every dive in case either came in contact with a strong chemical, or was damaged in some fashion during a dive.
Warnings
Do not rely solely on a dive watch when diving. Dives should be planned using a dive table or computer, allowing the watch to simply track time. If your dive watch is your primary source of timing, always ensure your watch battery is sufficiently charged. If you have a dive computer that will also keep track of your dive time, your watch can act as a secondary resource.
Photo Credits
hywit dimyadi/iStock/Getty Images