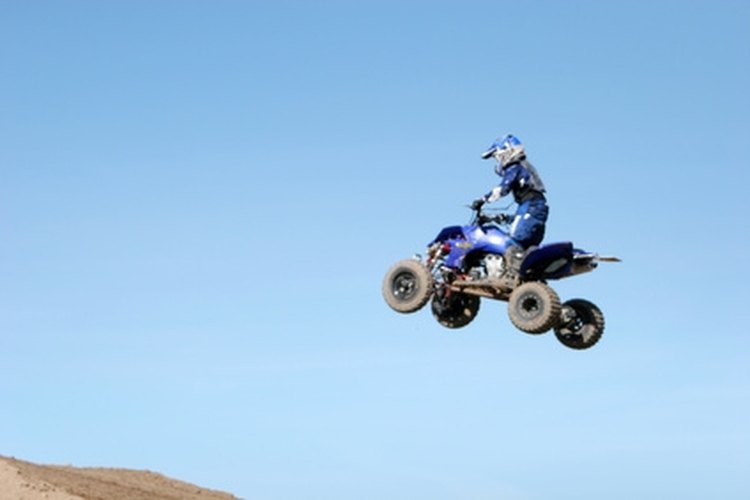 Four-wheel all-terrain vehicles come in a variety of classifications and models for everything from recreational sports to mowing and plowing. Manufacturers install a variety of engines in four-wheelers, from air and liquid cooled to automatic and manual transmissions. Most models are available in both two and four-wheel drive and manufacturers offer a number of additional features like headlights, roll bars, cargo containers and tow balls.
Sport
Classic sport four-wheelers are smaller and lighter than other ATVs. They are built for recreation and are fast, with manual transmissions with four to six gears. The steering responds quickly and the smaller engine models are easy for beginners to ride. The bigger and faster the engine, the harder it is to get used to. The classic two-stroke engine sizes range from 125 to 250 cc and require a specific oil and gas mix. High performance utility models are ideal for riders looking for a four-wheeler designed to jump higher, accelerate quickly and travel through all types of terrain. Most models feature a four-stroke, water-cooled engine that range in size from 350 to an impressive 700cc. These four-wheelers are not meant for beginning riders.
Utility
Utility ATVs are built for power so they don't go as fast as their sport counterparts. The four-stroke engine makes them heavy and big, but it makes them the best for towing and hauling. The first gear in a utility ATV starts low, they have a high ground clearance and they are available in both two and four-wheel drive in 250 to 700cc. The versatility of these ATVs make them good for farmers, hunters and many government agencies, like the Forest Service. Side-by-side utility models were introduced around 2002 and have gained in popularity. These four-wheelers look similar to golf carts, in that they seat two people side by side. But don't underestimate these models. They have improved stability provided by a longer wheelbase and include heavy-duty tires. They also often include an open bed for storage.
Combination
The sport-utility four-wheeler merges the best features of two ATVs. They usually have the look of a sport model but often with racks and towing capabilities. These ATVs are easy to ride with mainly automatic transitions and, unlike the sport models, they have floorboards instead of foot pegs. Sport-utility ATVs come in engines from 250 to 800 cc.
References
"ATVs: Everything You Need to Know"; Steve Casper; 2006
"The Field & Stream All-Terrain Vehicle Handbook"; Monte Burch; 2007