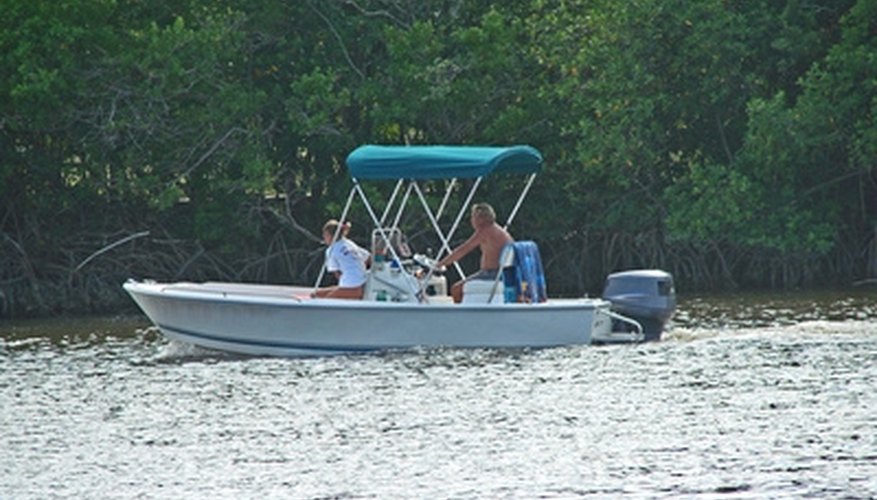 A pioneering manufacturer of marine engines for over 70 years, as of 2010, Mercury is a division of Brunswick Corporation of Lake Forest, Illinois. Founded by Cedarburg, Wisconsin engineer Carl Kiekhaefer in 1939, Mercury Marine produces inboard, outboard, sterndrive, tow-sport and jet engines for recreational and high-performance boating.
1993 Features
Mercury released two different 2.5-liter engines in 1993: the 175 XRi 2.5L and the 2.5L Offshore. Both outboards shipped with Mercury's Electro-Deposition Painting, first introduced in 1984. Other innovations that carried over to 1993 engine models included factory-installed power trim and power-ported, cam-tuned pistons, both introduced in 1973. Perma-gap spark plugs introduced in 1970 "reduce fouling and virtually eliminate tune-ups," according to Mercury.
Gear Ratio
As the two largest 2.5-liter outboards produced by Mercury in 1993, the 175 XRi 2.5L and the 2.5L Offshore produced 175 and 200 hp respectively. Both two-stroke engines, the XRi and the 2.5L Offshore had six cylinders and 1.87 to 1 gear ratios.
Driveshaft
Both the Mercury 175 XRi 2.5L and the 2.5L Offshore were manufactured with a 15-spline-count driveshaft. Spline count refers to a specific number of teeth on the driveshaft that correspond to teeth on the propeller hub and turn the propeller.
Maximum RPM
The 2.5L Offshore engine was marketed with a minimum and maximum Wide Open Throttle range of between 5,000 to 6,000 rpm, as was the 175 XRi 2.5L. The Wide Open Throttle recommendation indicates an ideal safe RPM operating range when a boat, engine and propeller are properly configured.
Propellers and Performance
Mercury specified eight identical A-style propellers for the 2.5L Offshore and 175 XRi 2.5L engines. Propeller choices for both engines range in size from 15 by 11 to 14 by 21 inches. Depending on propeller size, either the 175 or 200 hp engine could operate at speeds of 24 to 28 mph and up to a maximum of 45 to 54 mph.
References
Writer Bio
Based in Boston, Christopher Rogers has been writing arts and technology articles since 1995. His work has appeared in "The Boston Book Review" and on HappyPuppy and Games.com. Rogers was a visiting James Joyce Scholar at Shakespeare & Company's Bloomsday celebrations in Paris. He has studied psychology, comparative literature and philosophy.