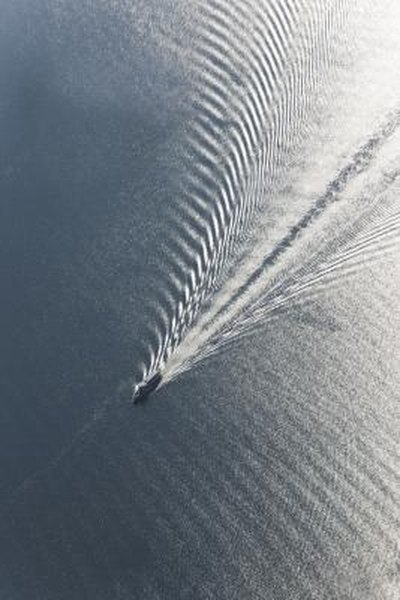 The MerCruiser 454 marine engine, manufactured by Mercury Marine, is used to power the stern drive in many boats. It is a large engine, adequate for water-sports towing, and is generally used in larger runabouts and cruisers. Using the proper oil in the MerCruiser 454 engine will aid its longevity. Some marine-grade oils contain high phosphorus levels, which can damage the 454's catalyst system. Use of those oils on the 454 can void the warranty.
Oil Recommended by Mercury Marine
Mercury Marine, the manufacturer of the MerCruiser 454, specifies Mercury MerCruiser Full Synthetic Engine Oil, 20W-40 NMMC FC-W rated as its recommended oil for the engine.
Acceptable Short Term Substitutes
If the recommended oil is not available, Mercury Marine specifies that the following lubricants may be substituted for short-term use. They are, in order of the company's preference:
Mercury Quicksilver 25W-40 Synthetic Blend NMMA FC-W rated 4-cycle MerCruiser Oil.

Mercury Quicksilver 25W-40 NMMA FC-W rated 4-cycle MerCruiser Oil.

Other recognized brands of NMMA FC-W rated 4-cycle oils.

A good grade of straight-weight detergent automotive oils.
Unacceptable Oils
Mercury Marine does not recommend non-detergent oils of any kind, because they do not clean the internal engine parts as the detergent lubricants will. Neither does the company recommend multi-viscosity oils (other than 25W-40 or 20W-40), or synthetic oils without the FC-W rating. Non-recommended oils do not provide the 454 same level of protection or engine performance. In some cases, (such as lubricants containing high levels of phosphorus), the solid components in sub-standard oil may damage the MerCruiser 454. Use of the recommended oil will ensure that the engine will not be damaged by inadequate lubricant protection.
Writer Bio
Paul McCormick began writing professionally in 2009 and is currently a freelance writer. He has two books published: "Dementia: The Journey of Caring for our Father at Home" and "Dill Pickle Love." The latter book is already being taught in seminars in Colorado. McCormick received his Bachelor of Arts from Grand Canyon College.