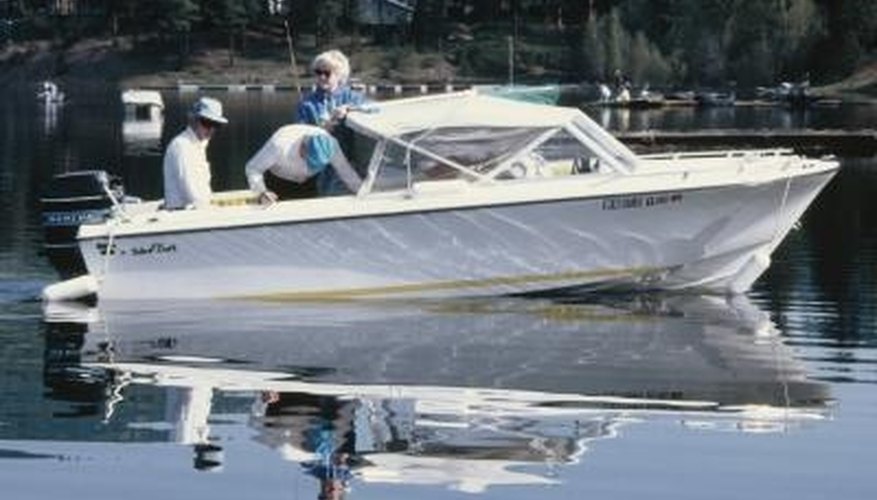 When troubleshooting the FasTrack Tilt and Trim system on your boat's Johnson outboard motor, your first efforts may be dedicated to replacing good parts in an effort to eliminate the cause of a system that refuses to move. This means you'll either have a ready supply of spare parts that you know are serviceable, or you'll need to have an understanding parts counter person at the dealership willing to accept all the returns. If the system moves, but groans or sounds strange, the fixes aren't as time-consuming or costly.
Items you will need
Manual release valve

Trim motor coupling

FasTrak pump manifold

FasTrak O-ring kit

Replacement fluid valve kit

Replacement impact valve kit

Hydraulic fluid
Close the manual release valve if the system won't move in either direction. If the unit still won't move, replace the manual release valve; if the symptoms disappear, the relief valve was the cause. If not, remove and replace the coupling on the trim motor. If the problem persists, install a pump manifold. If the problem persists, install an O-ring kit in the cylinders. Look for chipped fluid valves or impact valves and replace them if needed.
Open the hydraulic reservoir and check the fluid level if the engine tilts part of the way up, but doesn't move smoothly. Refill the reservoir with hydraulic fluid all the way to the bottom of the reservoir's filler neck. Bleed any air from the system by raising and lowering engine -- in ten second increments -- all the way up and all the way down with the trim/tilt motor for at least five complete cycles, checking the hydraulic fluid level in the reservoir after each cycle. Top off the hydraulic fluid after each cycle, if necessary.
Open the manual release valve and tilt the motor up and down by hand if the motor seems to be binding when you raise or lower it. When you find the spot where the system is binding against itself or another part of the boat, do whatever is needed to relieve the bind.
The FasTrak tilt and trim system was in general use on Johnson motors built after 1990.
References
"Johnson Repair Manual -- 2.5 to 250 HP Models, 2001-2009; Tilt and Trim; FasTrak System; Troubleshooting"; Seloc Marine; 2009
Tips
The FasTrak tilt and trim system was in general use on Johnson motors built after 1990.
Writer Bio
Will Charpentier is a writer who specializes in boating and maritime subjects. A retired ship captain, Charpentier holds a doctorate in applied ocean science and engineering. He is also a certified marine technician and the author of a popular text on writing local history.